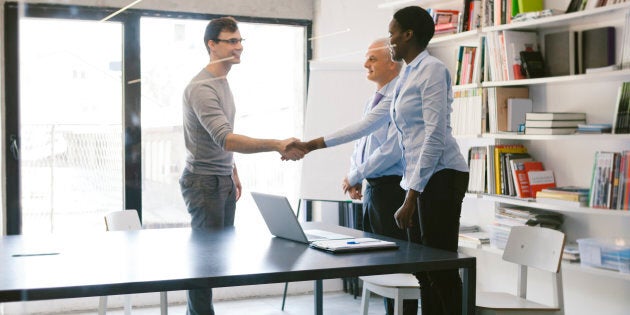 I thought long and hard about writing this piece.
Throughout my career to date I have actively covered my sexuality. As I matured and my life experience expanded, I began sharing this part of my life with the people closest to me. The only place where I didn't openly share this part of my life was at work. This wasn't because of fear of violence or persecution, but rather that it was just so darn easy being straight at work.
Covering is exhausting, but after a while you get good at it. I recall Monday morning conversations starting with: "What did you get up to on the weekend?" and my ever-so-quick diversion response: "Not much, it was quiet. How about you?"
It didn't matter if I did something special on the weekend with my partner or we celebrated an event, I used this response nonetheless because it made me appear plain and appearing plain at work is easy.
Every person in the room assumed that if I didn't have a "missus" then I therefore must be a straight single guy looking for a girlfriend.
As a 'covered' gay employee, I had every response, question and comment figured out. I learnt quickly the art of ensuring I never let someone look at a photo on my phone without me physically holding it to make sure there wasn't the accidental swipe left or right to see photos of me with my partner. My phone background was never the cute couple photo, just a plain colour usually because no one takes a second glance at a boring background.
When I started a job once, I was asked to introduce myself to the team through a series of photos that showed key milestones in my life. My photos were heavily focused on my childhood, hobbies and travel. Following the presentation, my manager asked in front of the group: "Do you have a missus?" I answered the question honestly, "no", and for most of my time in this team I was assumed single and therefore on the market for a girlfriend. I even had a colleague arrange a blind date for me with a female friend of theirs which I had to politely turn down by making up a story that I was already dating someone.
My manager asked the wrong question in this scenario. A turn of language to include 'partner' or 'significant other' might have yielded a different outcome. Instead, every person in the room assumed that if I didn't have a 'missus' then I therefore must be a straight single guy looking for a girlfriend.
Something I have observed on several occasions is the awkward pause and sometimes stutter that comes when someone clicks on to the fact my partner is male and words start to flow.
"Are you... gay?" with a look of surprise on their face. It's a perfectly okay question to ask, except that the term gay is seldom used in a positive context. How often do we hear the term 'gay' used to describe something someone doesn't like? There is often an awkward pause as the person thinks through whether the question they are about to ask might be offensive or rude. No one finds its offensive to ask me if I have a 'missus' or 'girlfriend' because that's deemed normal, but somehow asking me if I have a boyfriend or husband might be considered rude or offensive.
Far too many people feel it is not safe to bring their whole selves to work.
I have unfortunately experienced the spectrum of exclusion that exists for gender and sexuality diverse people. I recall a manager openly stating he didn't want any 'poofs' in their team out of fear they might crush on other men. Clearly my efforts in appearing straight in front of him had worked a treat. Then there was the time someone pulled me aside to let me know something I had said made me seem 'a little camp' and that people might start to think I bat for the other team. We wouldn't want that now, would we?
Far too many people feel it is not safe to bring their whole selves to work. There were always a select few people at work I trusted to know about my sexuality but for the most part I found it safer to let people believe that I was heterosexual.
When people know you are gay, the water cooler conversation somehow changes from being anything under the sun to questions all aimed at my sexuality: "How do you feel about the marriage equality plebiscite?" and "My sister's roommate is a lesbian", wanting to create a connection or implying that somehow all gay people must know each other.
There are always good intentions behind this but unfortunately what I've found is that LGBTQ employees don't want a light shining on them. We just want to come to work and do our jobs knowing we can be ourselves and feel accepted.
If you would like to submit a blog to HuffPost Australia, send a 500-800-word post through to blogteam@huffingtonpost.com.au
ALSO ON HUFFPOST AUSTRALIA