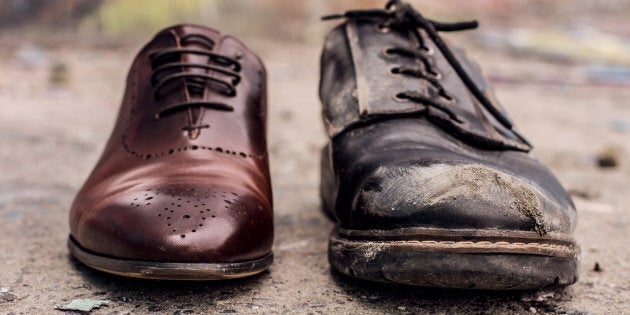 At the rate we are going, Australia is headed for an intergenerational poverty and welfare crisis that threatens the foundations of our so-called egalitarian society.
Research by the universities of Melbourne and Sydney, showing that children of parents on Centrelink benefits are almost twice as likely to be on benefits themselves by their early twenties, is a startling finding that should awaken our political and community leaders.
No longer can we consider ourselves the 'land of opportunity' where people can easily cross class barriers. For the first time, we now have evidence to suggest that there is a fundamental and dangerous shift in our society that sees people born in poverty, staying there.
The findings -- together with the spiralling property asset inflation that is shutting many young people out of the market -- dismantle Australia's long and proudly held beliefs that everyone can win in Australia no matter where you come from.
Nor, can it be said, that parents can realistically work towards ensuring that their children can enjoy a better lifestyle than their own.
Trading one's way out of disadvantage is becoming harder and harder.
The Melbourne and Sydney universities' study traced Centrelink data from 1987. The most worrying aspect was that the correlation between adult and child welfare dependency was strongest when the parents were on disability, mental health payments and single parent benefits. This runs counter to the intuitive belief that the correlation would be strongest between adult and child unemployment benefits due to lack of investment in education.
Unless we are moved by these findings, the dissolving of these long-held cultural beliefs as a society will see likely further breakdown in social cohesion, leading to resentment, protest, political and societal unrest.
Whilst one swallow does not make a spring, this study joins a growing band of evidence that shows family life, at the poorer end of the continuum, is struggling in many ways and that trading one's way out of disadvantage is becoming harder and harder. For instance, it is now estimated by ACOSS that more than 730,000 children are living in poverty.
However, the Government seems to have a preoccupation with drug testing and income cards when it comes to welfare policy. Whilst there may be merit for such preoccupation, these issues won't turn either the intergenerational poverty cycle some families now seem to be in, nor any Treasury expectations on expenditure forecasts that they are worried by.
A more pertinent inquiry for governments to ask is: 'what are the themes here, and how can we assist families out of avoiding intergenerational welfare dependency?'.
One place to look is our expenditure on the family unit in support and assistance. Current government expenditure suggest that Australian governments are spending on average as little as 17 percent of child and family welfare budgets on prevention whilst the remaining dominant amount is spent on statutory child protection investigation, family support assistance and out-of-home care.
For us to break intergenerational disadvantage we have to break our traditional jaded outlook on families caught up in welfare, and see the evidence that says investing in them will reap rewards we all want.
Of course, solutions will not be easy or quick, but for the first time in this country we are seeing early signs that state governments, such as those in Victoria and New South Wales, are interested in funding evidence-informed interventions that have track records of turning disadvantaged families around.
This includes funding parenting programs that are proven to increase parents' confidence and safety and routine in households, family workers who help families readdress roles and responsibilities, or fast moving teams that can quickly intervene with families at the point of crisis and move the dynamics to a safer and calmer environment that last for the long term.
These models can be game changers in communities around Australia yet seem to be fringe dwellers of family welfare in this country.
For the community and its political leaders this is where the long-term dividends in the form of reduced welfare payments can be found. And directing such investment does not need to be difficult as we now have strong instructive data that tell us which postcodes are driving our child protection, correctional services and income benefit demands.
Being more strategic in investing in communities, the international evidence suggests, will see community disadvantage decrease and family functioning lift through such place-based investment.
However, this type of thinking requires a change of mind set in approaching welfare policy. Governments could be helped in viewing a new approach by bringing in our best social researchers and service providers to a dialogue with them on how disadvantage, within a family or within a community, can be turned around and how, proactive investment coupled with the right models can reap great returns for families and governments alike.
With the evidence now shattering our fairy tale view of ourselves as a society, governments could do worse than to establish an inquiry or summit to discuss ways to repair the now emerging chasm in our society.