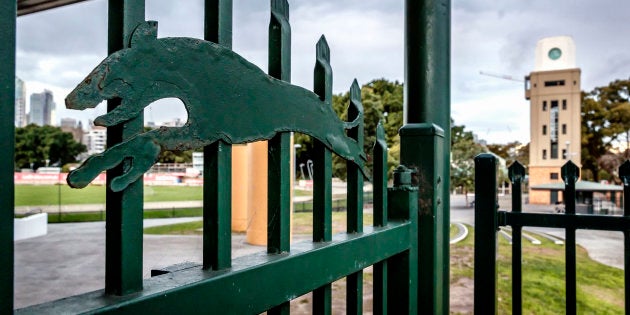 I took up the interim Chief Executive role at Greyhound Racing NSW on 19 February 2015, only days after the disturbing and deeply troubling revelations by 'Four Corners' and associated media reports that the previous GRNSW management had scrambled to appoint "some dog whisperer with a PhD" as a way of deflecting criticism about the live baiting scandal.
GRNSW was an organisation under siege, and when I tried to engage with industry I was confronted by belligerent fuelled denial. Participants were angry and indignant at what many believed was an unjust invasion of privacy. A criminal act suffered at the hands of the animal activists.
While difficult to comprehend at the time, the primary, and perhaps not unreasonable concern in other circumstances, of most participants was the uncompetitive prize money offered in NSW.
Self-interest persisted as the underlying agenda.
Very early on, participants impressed upon me the fractured and bitter nature of the industry where recriminations were rife, capable leadership was sparse and the more formal structures were encumbered by antiquated views and inertia. Mostly, participants were aggrieved and bent on righting past wrongs. The industry showed limited self-awareness, was unwilling to take responsibility and the regulator had been missing in action.
I wasn't from the greyhound racing industry, a point made to me many times, but I did know what sound strategic planning and effective regulation could provide. If the public could see us transparently dealing with the most serious of challenges, confronting wrongdoing while working towards a responsible, vibrant and sustainable future, we could have rebuilt the community's trust.
However, it was an extraordinary challenge to navigate industry reform under the forensic scrutiny of a Special Commission, with many in industry unimpressed with GRNSW's welfare-centric agenda and integrity reforms, and were unpersuaded by the risk of closure.
However, voices for change and excitement at GRNSW's vision for the future was gathering pace -– GRNSW's research agenda and substantial investment in contemporary practices and its strategic approach including plans to rationalise the cumbersome race club footprint and obsolescent track infrastructure underpinned by centres of excellence was a necessary and compelling vision.
I understand the frustration for some participants that GRNSW did not fight the NSW Government's decision; but, GRNSW has been working tirelessly for the past 19 months to reposition greyhound racing with limited industry support. Finally, although undoubtedly too late, the NSW Government's decision to close Greyhound racing in NSW triggered affirmations of change and cohesive leadership.
However, no fair-minded observer would suggest that GRNSW's efforts to reposition greyhound racing, the leadership it has shown and what it achieved since February 2015 is anything short of substantial.
Before the government's announcement, GRNSW had started to emerge as a modern, capable and effective regulator. It had reset the animal welfare benchmark and drove evidence-based reform as it strived to openly address the most challenging, the most wicked problems and achieve a sustainable future for the industry.
In a racing industry first, GRNSW now publishes a quarterly injury report, which transparently details the number and types of injuries that greyhounds sustain while racing and allows GRNSW to target its interventions to minimise and prevent injuries. Such transparency and commitment to do better, to improves outcomes, to be held to account, is sorely needed in the industry. But transparency remains resisted and misunderstood.
The Special Commission acknowledged the challenging environment that extensive reforms were put in place and praised what had been achieved. In fact, one of the difficulties the Commission acknowledged while writing their report was the continual change they had to consider.
The recent 'Love to Run' major television campaign was to showcase the refreshed greyhound brand and build momentum within industry towards GRNSW's strategic plan. 'Love to Run' highlighted what the industry can be at its best.
While horrific, the spectre of live baiting, whether endemic as was suggested to me or aberrant as the limited number of convictions argue, was never the issue that would be fatal to greyhound racing. The historical disregard for adequate oversight was repaired. GRNSW is vigilant and within the limits of its enforcement powers is holding industry to account.
Greyhound racing might have been able to rebuild its social licence when the veil was lifted on live baiting. We all accept that mistakes can be made, even very bad mistakes, but when you won't admit your mistakes and therefore aren't prepared to change, the public decide you aren't misguided or mismanaged but you meant to do it and are therefore inherently bad and can never be trusted.
This should be the key lesson for other industries facing controversy.
Vilification of anyone who dared to be critical of them, including me, remains a fundamental feature of the industry. Not only did they deny live baiting they were outraged at the animal welfare groups and 'Four Corners' who caught them and at the public that didn't understand why what they did wasn't really so wrong after all. People kill animals for commercial gain all the time, they still argue.
Tellingly, these weren't the outliers of the industry; many were the core, high profile owners, trainers and breeders and much of the past leadership of greyhound racing in NSW.
Those who denied the systemic challenge of over-breeding, excessive injuries and unnecessary killing of greyhounds despite the mounting evidence, and fought tooth and nail against GRNSW initiatives, put themselves above the greyhound racing industry's integrity and reputation.
Attempts to tether the institutional killing of surplus greyhounds as akin to the human food chain are as naive as they are specious. The industry was even more unlikely to recover community trust when light was shone on the scale of the over-breeding and unnecessary euthanasia was revealed in the Commission hearings. If there is any blame for the loss of acceptance and support it undoubtedly lies here. From within the failure to value authentic engagement with stakeholders and adequately monitor and report across the greyhound lifecycle let down industry's salt-of-the-earth participants, the law abiders, animal welfare upholders and long-timers who love their sport.
The previous GRNSW management's failure to acknowledge and meaningfully respond to the problems in the industry also weighed heavily in McHugh's [Special Commissioner] deliberations. The Commission found there was a failure of transparency and even more troubling, information was withheld from the punters and the public, both as to nature and severity of injuries and related euthanasia suffered by greyhounds at race meetings. A further death blow to trust and credibility.
There is no doubt greyhound racing makes a valuable social and economic contribution to NSW. We attempted to tell a persuasive story around this in our submissions to the Commission; however, as compelling as the story may be it couldn't overcome the voluminous evidence about callous practices. The exact amount of wastage is unimportant, everyone could see it was substantial and in any case for many people one healthy dog killed to sustain a wagering product is one to many.
Live baiting denials, the cover-up of poor practices, the lack of transparency about on track injuries and deaths, the numbers of dogs that were killed for the sport to continue and counter claims they loved their dogs deeply just didn't stack up -– every denial and every spurious argument and the divisive fighting with critics, helped to further destroy trust and credibility.
In the end a former Justice of the High Court deemed the sport in NSW was incapable of reforming itself and, sadly for the many good participants and for those within GRNSW that worked tirelessly on the reform program, this was true.