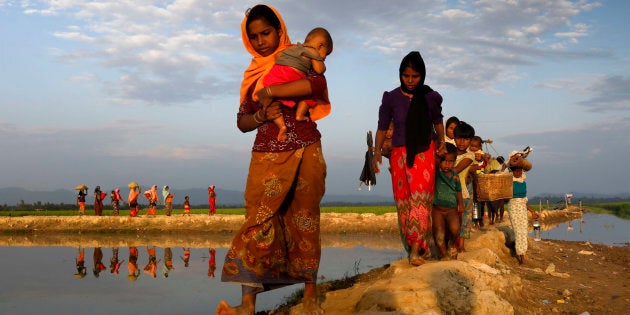 On October 9, just over six weeks after Rohingya refugees started surging over the border from Myanmar, I arrived in Cox's Bazar in southeast Bangladesh. By then there were already more than half a million new arrivals, joining some 300,000 refugees already in the country. I flew into Bangladesh straight from Jordan where I'd been working at Zaatari refugee camp for Syrians.
In southern Bangladesh the people are welcoming but the environment is not. It is hot and humid, with uneven terrain and jungle. Conditions are rough. Refugees are given bamboos sticks and plastic sheets as they arrive to construct temporary shelters for their families, but it's hardly adequate shelter for the long-term and we will need to establish more durable shelter solutions quickly.
The first day I was on site I met a brave pregnant woman who had crossed the border with her three young children, having lost her husband to the conflict in Myanmar. Despite everything, she was fiercely independent and determined to set up her shelter on her own. She refused any external help and built her bamboo-framed structure with only the assistance of her seven-year-old son. She is proud of her achievement but equally concerned with the inadequacy of her new home; the plastic sheeting leaks rainwater to the interior and there is no thermal insulation whatsoever. Being heavily pregnant does not make it easier for her to cope in such uncomfortable conditions.
These people do not complain, and they do not sit on their laurels. They are active, strong and independent with amazing skills in construction.
Overcrowding is an immense challenge. UNHCR's two existing refugee camps were swamped within days of the influx. Bangladesh is one of the world's most densely populated countries already, with 163 million people living in an area smaller than Victoria, so finding land to accommodate huge numbers of refugees isn't straightforward -- especially with thousands more arriving daily. In the world's fastest-growing refugee crisis we are constantly playing catch up.
The Bangladeshi Government has allocated a 'mega' site of approximately 2,800 acres for the extension of Kutupalong refugee camp -- one of the existing UNHCR camps. However, a high percentage of this land is unusable because it is either prone to flooding, is already cultivated with rice paddies, or the slope is far too steep to build on without risk of landslides. Therefore, this site alone won't be sufficient, and we need to keep working with the government to find new land to accommodate everyone.
The throngs of young children that follow us around each day are a reminder of what we're working for. There are so many children who simply wish to be able to live a normal life, go to school every day and not fear for their safety.
I met a boy called Than who is 11 years old and wants to be a pilot when he grows up. Than is worried that he is falling behind in his studies and this may jeopardise his future. I desperately hope that with somewhere safe and secure to live, Than will be able to return to school and achieve his dreams.
Since I arrived, I've been onsite most days in a small team of technical staff, developing a transit centre for new arrivals. We need to work out where tents can go to maximise the use of space, where toilets and showers can be situated for ease of reach, as well as making sure there will still be access for delivery vehicles with supplies, or ambulances in emergencies.
The transit centre site, despite being government land, was actually being leased to a Bangladeshi family who were using it as a rubber plantation when the refugees began arriving. It took time and negotiation before we could proceed with using the land for the transit centre. We had to promise the leaser that we would only cut down two trees, which greatly restricted our ability to erect the two required portable warehouses, the 120 family tents and 25 bamboo structures. With some onsite modifications to the plan, we were able build all necessary facilities.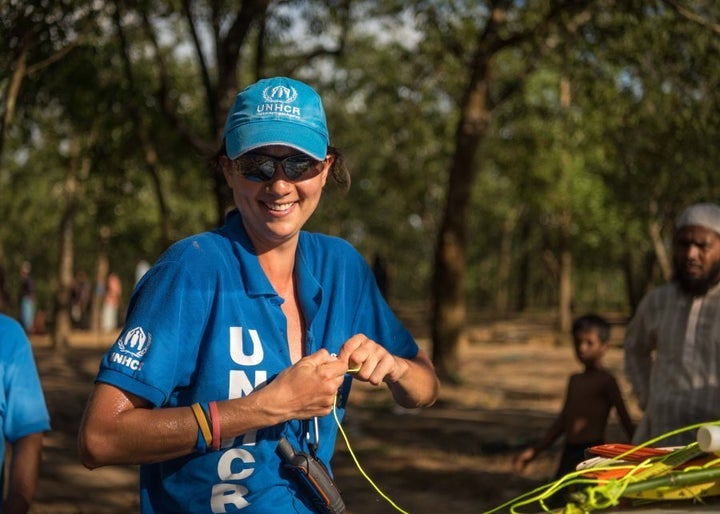 What has overwhelmed me in Bangladesh so far is the incredible resilience I have witnessed among the Rohingya communities. The speed at which they are rebuilding their homes is extraordinary -- vast tracks of land within the expansion zone are being developed with every passing day. These people do not complain, and they do not sit on their laurels. They are active, strong and independent with amazing skills in construction.
It is the Rohyinga refugees who are paving out the new footpaths in the expansion zones and who are building the bamboo bridges across water bodies. It is inspirational and heart-warming to witness.
__________________________