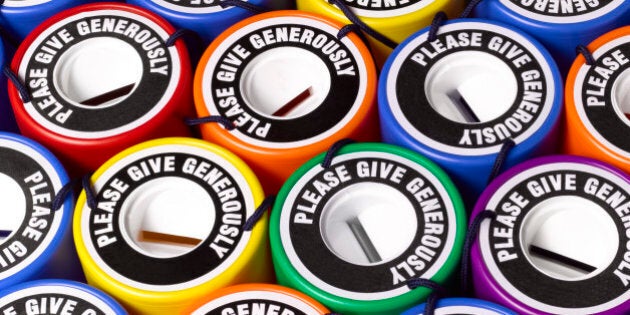 The new year has started and, with it, a host of resolutions. One of those might be to be more charitable; to give more rather than receive. It's a time of the year when individuals and families include the world's vulnerable in their plans, and in their budgets.
Australians give around $30 million a year to charities, and a big chunk of this is done over the Christmas/New Year period. But giving comes with a little uncertainty. Who should I give to? Where does the money go? Am I really making a difference?
Before I begin my tips for generosity, I'll declare a few things. Firstly, I'm not associated with any charity or organisation. Further to that, I've never worked in a charity or aid-related field. My 'expertise' comes from a lifetime of giving. My first trip to India, at 9 years old, revealed the hideously unequal distribution of wealth in this world. When I was 11 my parents watched, aghast, as I used my pocket money to sponsor a child. Then adopt an animal.
Since then, I've given time, money, services and a host of other things to try to even up the playing field. It's nothing to be proud of. I'm no Zuckerberg -- we're not talking about millions of dollars here. But, I have no idea why I was born to a privileged life, where water comes from a tap, I never go hungry, I'm not in constant pain, I'm able bodied, there's a roof over my head and I live in freedom. I know that privilege comes with a responsibility to help those not as blessed.
After more than 25 years of giving, here's 5 things that help me make decisions about where my money and times goes.
Some admin costs are necessary
I often get asked 'how do you know it'll reach the source'? Or, more commonly, people tell me they don't donate because the money never reaches the people who need it. Of course, no one wants their money squandered on glossy marketing campaigns or pay packets for board members. But I'm also wary of any organisations that don't pay a single cent in administration.
I've sat at charity events where it's proudly declared that "100 percent goes straight to the kids", met by thunderous applause. This is an alarm bell because transparency, accountability, governance and auditing all cost money. Getting by without those things seems dodgy. Sending all funds to the source sounds noble, but they could be cutting some corners, or possibly doing some creative accounting.
The important thing is that the charity discloses where your money is going. Organisations like Oxfam have a pie chart on their website to illustrate this for you. This kind of disclosure is a sign of trust and transparency.
Does this charity create meaningful change?
This is difficult to quantify because diseases can't be cured overnight, wars will continue to rage, disasters have flow on effects and governments will continue to be corrupt. However, there's some basic things you can ask yourself. Is the project useful? Does it improve lives? Is it really needed?
Personally, I find donations of one-off gifts or feel-good tributes in the developing world to be unsustainable. Of course, the gift of knowing you are loved is priceless, but these presents fail to address the poverty and inequality that put people there in the first place. That money might be better spent at a school or organisation that can provide shelter, clothing or medicines as well as love.
Religious, ok. Religious conversion, not ok.
I'll say this loud and clear: not all religious charities evangelise. Some religious charities do incredible work and while faith may have inspired their efforts, they do not engage in evangelist activities. Charities such as Caritas and TEAR firmly state that they don't deliver religious messages or seek to convert. They may work with local churches, but their efforts are not confined to believers.
At the other end of the scale, I once listened to a guest speaker at a Catholic school tell the students that her organisation tore down a statue of Buddha and replaced it with one of Jesus Christ. I went to a fundraiser for a health care provider that showed a montage of baptisms. Some charities do evangelise, so if this is not your personal philosophy, beware. Charities' mission statements, frequently asked questions or photographs usually give you a sense of what they're doing.
You don't need money to give
Not everyone has the disposable income to give money, but remember, there's so much more than money needed in this world. You can organise an event or fundraiser, spend time with someone in need, give furniture or electrical goods, even old blankets are a perfect winter donation. You can help an animal find a home, recycle your mobile phone, donate books to a school, build bikes, do an elderly person's gardening or even become a foster carer. Simplest of all, you can save three lives by giving blood -- they'll even give you cookies.
Choose something that makes a difference to you
Donate to something close to your heart that brings some relief to what you hate most about the world. I personally don't subscribe to the misinterpreted phrase 'charity begins at home' that dictates we should look after Aussies first. For me, people are people and need is need.
My Indian background has made me yearn for more equality and less poverty in the developing world, particularly in the subcontinent where I could have so easily been born. After my father died of dementia I wanted to do more for carers who walk a very tough road. As a woman, I'm conscious that too many girls are disempowered or vulnerable to exploitation. I'm also mindful that climate change is our greatest threat and none of us stand a chance if we don't make some big changes.
These areas are where I focus my efforts. You will have your own list of priorities that are deeply personal, reflecting your life experience and your passions. By giving, you will receive -- I promise. You might gain a sense of peace at contributing to our world, new like-minded friends, purpose and gratitude or a simple tax deduction.
All of that is waiting for you, so think about starting 2016 in the most beautiful and generous way.