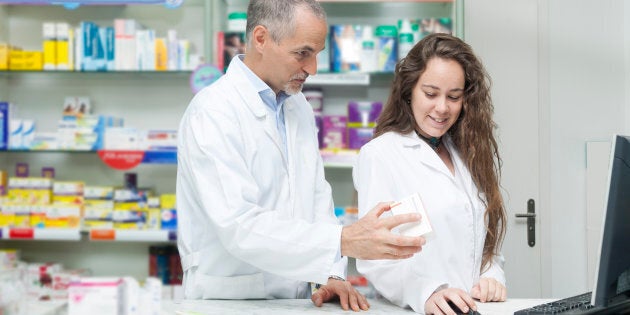 I've always had a pretty strong work ethic. I thank my mum and dad for that. I come from a working-class clan, and in our house it was expected that you pull your weight. It was seen as a way to secure your independence; a rite of passage, a way to grow up.
Come 14 and nine months I was champing at the bit, keen to get an after school job, largely so I could earn some extra dosh and finally get that Nokia 3315 I'd been chasing.
With a nepotistic kick from my sister I scored a job at a local Bathurst pharmacy where she worked. I didn't realise it at the time but this seemingly simple position as 'pharmacy assistant' left a lasting impression and shaped who I am today. For in those formative years, while my head was abuzz with boys, bands and alcopop benders, I was expected to show up, to be professional and to have compassion.
Everyone knows the health industry is skewed toward the bleeding hearts; the all-giving women and men who spend their waking hours helping those in need. But I was a kid, a bloody selfish one at that. Could I really handle this?
I had to grow up, and fast. From a gawky, buck-tooth, bumbling teen, to a woman who could suppress her blushing crimson cheeks when a teen couple asked for the morning after pill, or 'extra-large' condoms.
I learnt quickly that awkward and unpleasant things were going to come my way and I needed to handle them with decorum and grace. A coy snigger when a middle-aged business man got his bunch of little-blue pills wasn't going to fly.
My job became to make people as comfortable as I could while they were at their most vulnerable. Don't get me wrong, at times it was hard; I had to smile while accepting stool samples in bowel cancer kits, resist the urge to scratch my head when someone came in with nits, and take soggy money from the sniffling-sneezing sickies mid coughing fit.
Let's just say during this time Aquim hand sanitiser became my best friend.
But that's how I really got a handle on empathy, I imagined myself in the customer's highly embarrassing shoes and worked backwards from that. I wanted to offer them comfort not judgment.
I attribute my patience and most of the caring bones in my body to this job -- which I kept till my first year in uni.
I will say I was wildly underprepared for the unrelenting pull on my heart strings. I guess in any customer service role you're on the front line, you become a triage of sorts, serving those in need. But things at the pharmacy just seemed more intense, more emotional.
I comforted a mother as she filled her son's countless roacutane scripts and complained of the side effects he was experiencing, which ranged from joint stiffness to nose bleeding. Counselled a young mum as she sat incessantly listing the pros and cons of giving her child ritalin -- searching for solace, the right thing to do.
I also administered methadone to recovering heroin addicts and for the first time saw the vicious cycle of addiction -- success then relapse. They'd show up, disappear, then come back desperate and dishevelled not knowing where they went wrong. I witnessed first-hand the stigma that surrounds drug addicts, the more conservative customers would watch on, glaring disapprovingly as the suffering fools drank their golden syrup.
I remember serving old married couples, nans and pops, who would give me their spare gold coins to 'go toward my house'. They were my regulars, my family away from family. Still, it seemed tragedy was inevitable -- the days came where one would arrive sans partner and let me know their lover had drifted off in their sleep.
Or worse we'd get a visit from their inheritence-hungry kid; who was absent for all the important bits but there to drop off the redundant meds, fix up the finances and let us know they'd never return. It was heartbreaking, but again another lesson for an adolescent -- death doesn't discriminate.
I attribute my patience and most of the caring bones in my body to this job -- which I kept till my first year in uni.
There has been a lot of talk in the media recently about automation replacing entry-level jobs -- how young people will find it harder and harder to get into the workforce, to find a place to cut their teeth and learn basic skills, and while I think that's a real tragedy I think it's something we can (and should) work together to overcome.
Maybe it's as simple as rethinking our idea of what a 'part-time job' is. Maybe teens won't be stacking shelves or serving cold cuts at Coles but taking on 'gigs' from Airtasker or Foodora. I don't know exactly what that future looks like, but I do know parents need to encourage their children to work. They need a job to understand work ethic, responsibility and the value of things.
My 'battler' pedigree gave me grit, kept me keen and pushed me to be productive -- but the job gave me even more; a warmth, a gentleness, a mild case of hypochondria and an affinity to pills and antibacterials that I still have today.