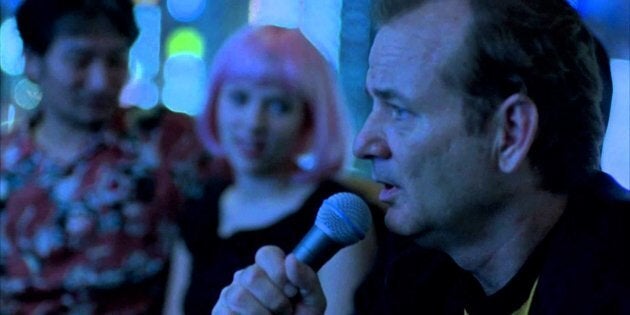 I recently performed 'You Can Call Me Al' at a karaoke bar; well, perhaps 'butchered' would be a better description. Somehow I'd convinced myself that this Paul Simon classic would go down a treat, until -- moments in -- I realised the yodel-esque song was no friend of mine. I stumbled over the words and scream-sang the chorus off-key.
Staring out at a sea of disinterested faces, I realised two things: 1) no one actually cared and, 2) I was really, really happy. This gin-and-tonic-fuelled epiphany got me thinking about this pastime and why we love it so much.
Looking at my fellow open-mic participants it was clear that karaoke draws a diverse crowd. There was a big, beefy bloke in a singlet and stubbies, a group of twenty-somethings teetering in stiletto heels, and a middle-aged woman in an ill-fitting cat jumper -- the 'Islands in the Stream' type.
A bunch of misfits ready to take the stage. But were we all singing for the same reason?
Karaoke is a Japanese word which means 'empty orchestra', but there's nothing empty about it.
It's easy to assume karaoke is a purely narcissistic endeavour, a chance to be in the spotlight, to enjoy those fleeting Andy Warhol minutes of fame. But as I watched song after song recited hopefully on stage, I realised we all had our own agendas which were as unique and diverse as our song choice.
One of the teenyboppers took to the stage, mic in one hand, alcopop in the other, and kicked off her high-pitched Katy Perry rampage. It was clear she saw this as an opportunity to show off her 'talent' -- a self-promoting platform for a wannabe star.
She pulled out some Mariah-Carey-type runs with a desperation that I found slightly disconcerting. Her eyes darted around the crowd, as though she were looking for someone, a potential agent or judge from 'X Factor' perhaps. She wanted to be famous, and for three minutes and 46 seconds she was.
Singlet and Stubbies was next, his strong presence engulfing the stage. He cleared his throat, took a swig of VB and then unleashed the most tender and raw version of REO Speedwagon's 'Keep On Loving You' I've ever heard. It was as though all this emotion was bottled up inside and it was finally given a chance to escape.
I wondered who he was singing about, or to. Was he a widow? A divorcee? Was it an ode to a teenage romance from long ago? I guess it didn't matter because, in under a minute, he'd managed to get the entire room hanging out for his next heartwrenching note.
To him, karaoke seemed cathartic, a chance to dive in and explore his emotions, to be vulnerable, emotional, to express all the things he perhaps found hard to express in everyday life.
Once the song was over a steely expression returned to his face -- the vault had been closed once again.
To those who can't sing, I say karaoke. To those who can sing, I say karaoke. Just try to avoid 'You Can Call Me Al'.
The cat lady softly sang Cindy Lauper's 'Time after Time', shutting her eyes and swaying from side to side. The music consumed her, she was living every lyric. Unfortunately, all I could think of was that dance scene from 'Romy and Michele's High School Reunion'. But you could see that she really loved this song and just wanted to share it.
The cat lady and I probably had most in common, because for me karaoke is and has always been about sharing the music that I love with others.
'Graceland' was an album I first listened to with my Dad. Whenever I hear it I flood with nostalgia and all round good feels -- mainly when I imagine Chevy Chase in the film clip -- it's a happiness that I want to share.
And what I lack in vocal ability I make up for in enthusiasm -- I'd like to imagine I look like ScarJo serenading Bill Murray in 'Lost in Translation' but in reality it's tragically uncool Elaine-style dancing. But that's half the fun of it. It's liberating to not give a shit, and let it rip.
I guess that's what makes karaoke so damn infectious. It doesn't matter if you can sing, if you have a hidden talent like Singlet and Stubbies or you're tone-deaf like me. Fun is contagious. Those singing get an adrenalin rush, those feelgood endorphins, and the people watching get entertainment, or at the very least a reassuring dose of schadenfraude.
And no matter how bad we were that night, the crowd applauded every time. Because it takes courage to get up there and be open and vulnerable. You're putting yourself, and your taste in music, up for judgment and critique. No matter the motive, that takes guts. And perhaps a bit of alcohol.
Karaoke is a Japanese word which means 'empty orchestra', but there's nothing empty about it. I find it a fulfilling experience. So to those who can't sing, I say karaoke. To those who can sing, I say karaoke. Just try to avoid 'You Can Call Me Al'.