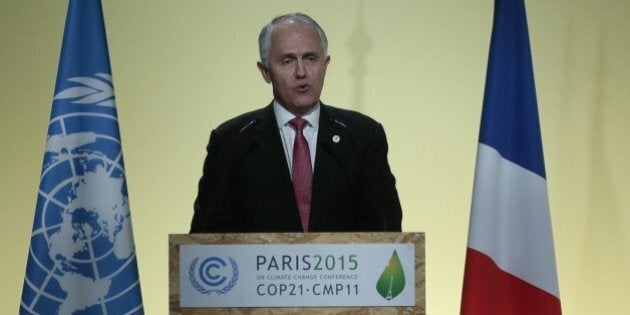 One of the most enduring rituals of international climate meetings is when environmental organisations combine to announce the 'Fossil of the Day Award'.
The prize is bequeathed to the country that exhibits the worst behaviour at the climate negotiations that day -- by undermining ambition, blocking agreement or by shamelessly pursuing national interest over global cooperation.
Australia has a pile of these awards in its trophy cabinet. It almost never leaves an international climate summit without at least one, and last night the tradition continued.
Our Liberal government has won us a Fossil for the impossible juggling act that is backing a 1.5 degree global warming limit while simultaneously supporting huge new coal projects that will blow Australia's carbon budget through the roof and export pollution to the world.
"These words came out of Julie Bishop's mouth," said the incredulous host of the daily awards ceremony, to a chorus of boos: "Coal will remain critical to promoting prosperity, growing economies and alleviating hunger for years to come!"
That Australia survived most of the summit without winning a fossil fool award was unusual. Our record in recent years of undermining international agreement on global warming is infamous. Australians should be able to expect much more from our government, but leaders pushing for action in global warming seem to consider it a victory when the Aussies keep their mouths shut.
Foreign Minister Julie Bishop and Climate Change Minister Greg Hunt have had precious little to say in Paris. Their speeches refer to a carbon emissions reduction target which is second only to Japan in the developed world for lack of ambition. They have padded their speeches out by rehashing domestic policy announcements and seeking to maximise mileage from their recent innovation policy launch.
At the heart of Malcolm Turnbull's policy settings on innovation there is a huge and undeniable contradiction amplified by the Paris climate negotiations: you can't have a 19th century fossil fuel dependent energy sector driving innovation in a 21st century economy.
Energy supply is a bedrock of economic prosperity and a key challenge in tackling global warming. That's why innovation is driving leaps forward in renewable energy development. What is possible now with solar and other renewable sources was impossible only a few years ago, from battery storage to supplying reliable base load power on a massive scale.
It's irreconcilable to have policy settings which prop up and prolong coal as our primary energy source while promoting innovation in the Australia economy, but that is exactly what Malcolm Turnbull is doing. During these Paris talks he has demonstrated that he has capitulated to the far right dinosaurs in his party and walked away from an international agreement to rapidly phase out fossil fuel subsidies -- a campaign led by conservative New Zealand PM John Key along with over 40 other nations including the United States.
Even more bizarre when it comes to innovation, Mr Turnbull has refused to abandon the legislation initiated by his predecessor to scrap the Clean Energy Finance Corporation and the Australian Renewable Energy Agency. Both were established to help drive innovation in the energy sector and have been remarkably successful in kick-starting the necessary transition.
The PM also continues with policy settings that support coal, which are a ball and chain slowing down innovation in the economy. A huge gulf is emerging between the Prime Minister's words and his actions. It seems that when it comes to innovation Malcolm Turnbull is once again saying one thing and doing another.
There are clear choices to be made and better options available.
While in Paris I've been meeting with Australian and international business leaders to learn more about the pace of this transformation occurring right around the world. From attending the launch of the Global Solar Council, to a round-table with the Carbon Market Institute, the message from business leaders is the same -- renewables are surging ahead and if don't support innovation in this space you'll be left behind.
That's why last month the Greens launched Renew Australia. Our plan is all about turbo charging the nation's spirit for invention and innovation by setting an ambitious and achievable target of 90 percent renewables by 2030.
What has struck me in Paris is that while our policy to rapidly shift our energy dependence from coal to renewables is considered extremely ambitious in Australia, amongst the international community it's a no-brainer.
Most of the developed world is now seeing the transition to a 21st century economy, driven by a modern energy sector which is underpinned by renewables, as an opportunity rather than a cost. If the Turnbull government doesn't reboot its policy settings fast we will be left behind, despite our huge know-how and natural advantages in the clean energy sector.
This century belongs to those nations that embrace this transformation. Mr Turnbull, it's time to get on board.