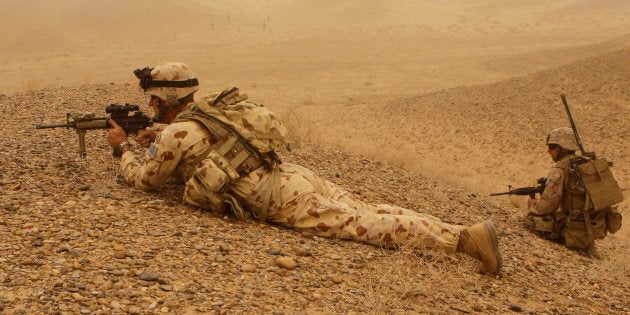 I am wearing heavy body armour and a helmet, sitting in the cockpit of a Hercules while the pilots execute a tactical landing into Kabul aimed at avoiding anyone on the ground wishing to shoot us. Evidently, this is not the "fasten your seatbelt and stow away your tray table" descent into an international capital which is so familiar. Extreme caution is being applied, befitting a place which has become a byword for danger.
On the ground, life is also markedly different.
Being in civilian clothes makes you the odd one out. Heavy weaponry is everywhere. The forms of life: passport control, meeting rooms, bathrooms -- all exist behind large concrete T-slabs. The concrete creates both a dense barrier to the perils outside and a peculiar aesthetic which identifies that you are now in a war zone.
To be sure, life is lived here. A certain normalcy can be discerned. But normality for an Australian soldier serving in Afghanistan is a far cry from a morning walk with the dog through the local park.
The remarkable feats of the diggers of the Great War endure through the century. Contemporary military service remains extraordinary and worthy of the ANZAC name.
In the last two decades a reverence has become attached to ANZAC Day. No one person deemed it this way. It is truly a popular movement.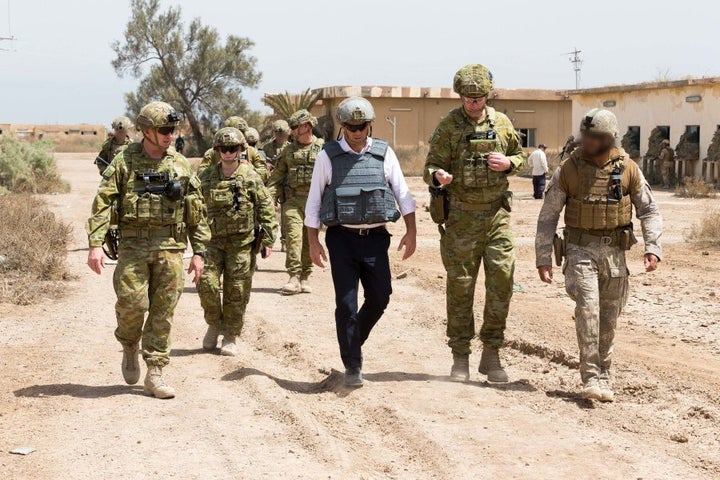 The reverence is not all about the feats of one combined army corps. There is something profound at work about a yearning for national identity. At its heart, ANZAC Day does still have a deep acknowledgment of military service, but it's hard not to wonder what is going through the mind of the popular imagination as you listen to the speeches about war and hardship, freedom and democracy.
As a participant in the Parliamentary Defence Exchange Program I had the opportunity last year of wearing our national uniform. On that occasion I was in the Navy. Putting on the uniform felt awkward and I felt unworthy. I knew it mattered to the defence personnel around me that I wear it, but in truth I also knew that I hadn't earned it. As I pushed my leg through the trouser it was obvious that these clothes were precious.
For those in active service, like the men and women I met in Afghanistan, donning these clothes is done with the ever present reality that you may never take them off. We all come into the world naked. For those who put this uniform on, there is a very real possibility they are the very garments which may adorn them when they leave. The uniform is sacred. It seeks sacrifice. And with humour and grace, with a down-to-earth laconic air, our soldiers submit.
From men and women, many in their early twenties, this is a remarkable act. And it is humbling. And they are ANZAC.
They are a force for good contesting the basest of human behaviours making the world a better place.
They live by procedure: a time to wake, a time to eat, a time to work out, a time to deploy. They eat American food in large canteens and talk about their shared experience. Spare moments, such as they arrive, are often in the gym wearing the particular t-shirt which brands their camp -- a voluntary uniform of tribe. A moment can be stolen in a coffee shop, hairdresser, or pizza joint located within the wire. But make no mistake, life -- every single second -- is lived on call for the entire four, six or nine months of their tour. Away from family, willingly forgoing personal freedom, this is sacrifice.
The jobs they do are deadly serious: flying a plane, providing essential gear, researching a target, applying the law, making a decision to release a weapon which will defend an ally and kill the enemy. The stock in trade of war is life and death.
This work cannot be done without a dependable professionalism. There are no half competencies. The job you are trained and assigned to do must be done with excellence.
This standard exists because your comrades depend on it. This is the ultimate collective endeavour. It is the military -- not a company, nor a political party, nor a professional sporting club -- where you will find the purest expression of team. Individual glory is utterly subjugated in the name of your platoon, your brigade, your nation.
This is why the projection of Australia through the men and women of our defence forces is so magnificent, why their service is so extraordinary. They work abroad in the most troubled of places. They perform dangerous and arduous tasks wonderfully. They laugh and cry with Afghans, Iraqis and South Sudanese as one human being to another. They are a force for good contesting the basest of human behaviours making the world a better place.
It is they who are our greatest ambassadors. They are the spirit of ANZAC. And we should be so ever grateful.
ALSO ON HUFFPOST AUSTRALIA