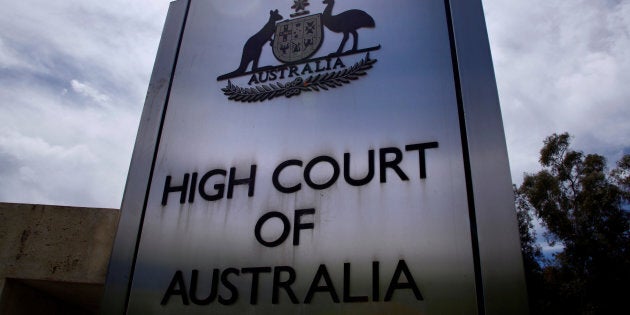 You've all read that various members of Parliament, having discovered that they have dual citizenship, are heading to the High Court -- the highest court in the land -- to find out if section 44 of the Constitution means that they weren't validly elected.
You're probably asking yourself: How can one section of the Constitution cause such problems? And, seeing that the Constitution has been around since 1900, surely by now we know what it means?
Non-lawyers find it surprising that we don't. The reason is that the High Court, like other courts, just decides the cases before it. That's its job. It doesn't go beyond deciding the case before it and explain everything about what a part of the Constitution like section 44 means. And that means that new questions can come up that haven't been decided before. That is what has happened.
The thread common to four of the five cases heading to the Court -- Senator Matt Canavan, MP Barnaby Joyce, MP Fiona Nash and Senator Nick Xenophon -- is that they didn't acquire foreign citizenship by being born overseas themselves. The rules that apply when you acquire foreign citizenship by birth overseas are fairly clear: You must renounce your foreign citizenship before nominating for election. If the foreign country won't let you renounce your citizenship, you must take all reasonable steps to rid yourself of it.
One possible solution to the section 44 crisis is to define "citizen" in the second bit of section 44(i) without taking foreign law into account.
The rule applies even if your contact with the foreign country was fleeting. Greens Senator Larissa Waters was born in Canada when her parents were studying there and left Canada with them before she was one year old. But she was disqualified because she had picked up Canadian citizenship by being born in Canada and hadn't renounced it.
What is different about four of the five new cases is that they acquired foreign citizenship because one (or more) of their ancestors was born overseas. Three of them (Joyce, Nash and Xenophon) had a parent born overseas and apparently acquired foreign citizenship simply because of that. In Senator Canavan's case, it was acquired via his Italian grandparents. All of them say they weren't aware of their dual citizenship until recently. (Senator Roberts' case raises different issues that aren't discussed here.)
So, you ask, what's the problem? Isn't section 44 of the Constitution clear about whether they're disqualified? Unfortunately, it isn't. Here's why. (There's some legal talk coming, but once you get through it you'll be able to explain to everyone why this is such a mess and how to solve the problem.)
Here is what s. 44(i) says. Don't be put off by the archaic opening words, because that's not what the debate is about. I've added some labels to make it easier to understand.
Section 44 disqualifies any person who [first bit] "is under any acknowledgment of allegiance, obedience, or adherence to a foreign power, or [second bit] is a subject or citizen [of a foreign power] or [third bit] is entitled to the rights and privileges of a subject or a citizen of a foreign power".
The debate going on now is about what the second bit means. The first bit is pretty obvious, despite the archaic words: Someone who has declared their allegiance to a country other than Australia should not be qualified to be elected to the Australian Parliament because their loyalty might be divided between the two countries. (It's okay: You can still cheer for the All Blacks.)
As for the third bit, it is ambiguous in at least three ways and nobody really knows what it means, which is alarming, but a story for another day.
Come back to the second bit. For starters, you need to understand two things. First, "foreign power" means any country that isn't Australia -- at last count, all 195 of them. Second, whether a person is a citizen of a specific foreign power usually is decided according to the laws of that foreign power. So if you want to know whether you're a citizen of Liechenstein (population about 38,000), you consult Liechtenstein law.
To put it in legal-speak, under Australian law, the question "Are you a citizen of Country X?" usually is answered according to the laws of Country X.
You've just realised that there could be 195 different answers to what "citizen" means in section 44. You're right. And, because of this, the meaning of part of the Australian Constitution could depend on the laws of countries all around the world -- and it could change as their laws change. Is this weird? Good question. Read on.
The cases on section 44(i) say that the first bit (disqualifying people who have declared allegiance to a foreign country) helps us interpret the second bit (dealing with people who are citizens or subjects of a foreign country). It helps us by limiting the meaning of "citizen" and "subject" in the second bit to situations where the person has done something that indicates an act of allegiance to another country. On this theory, foreign citizenship acquired unknowingly (e.g., through birth of a parent in another country) might not disqualify you.
There are problems with this approach. For one, if the second bit is limited by the first bit, why do you need the second bit at all? One of the rules for interpreting laws is that you assume that the drafter meant each bit to do some work and not be there just to look pretty. This approach seems to break that rule.
More importantly, this approach means reading "citizen of a foreign power" in the second bit perhaps to mean something quite different to what the law of the foreign power says it means. To use Barnaby Joyce as an example, New Zealand law apparently says he's a citizen because his father was born there: full stop.
But using the first bit/second bit approach means interpreting "citizen of a foreign power" in the second bit to mean something like "citizen of a foreign power but only if he or she did something that involved declaring allegiance to that foreign power like applying for a passport or taking an oath or making an affirmation of allegiance and in any case not if he or she has renounced their citizenship or, if that is not possible, made reasonable efforts to renounce it, etc., etc. ...".
You see the point: In an attempt to make the second bit consistent with the first bit, the rule about deciding citizenship according to the foreign country's laws has pretty much been ditched. To keep the bathwater, we've had to throw out the baby.
Come to think of it, why not throw out the baby? The cases on section 44 say that, in extreme cases, the rule about deciding citizenship according to foreign law will be discarded. In an interview last month, Government frontbencher Christopher Pyne said, jokingly, "Kim Jong-un could make us all citizens of North Korea and we'd all have to resign". This is the sort of case where the rule would be ignored.
So, one possible solution to the section 44 crisis is to define "citizen" in the second bit of section 44(i) without taking foreign law into account. The 2016 census reportedthat 49 percent of Australians were either born overseas or had at least one parent who was. If foreign law decides who is a citizen of a foreign country, this creates the likelihood of multiple meanings of "citizen", continuing confusion and possible exclusion from office of a lot of good Australians.
The meaning of the word "citizen" determines who is eligible to be elected to, and to serve in, the Australian Parliament. Why not determine this critical question under Australian law and bring the confusion to an end? That way, we could concentrate on electing the best Australians to Parliament (wherever they or their parents or their grandparents were born) and then let them get on with the job of representing us.
Robert Angyal SC is a Sydney barrister and mediator. He's not involved in the High Court cases.