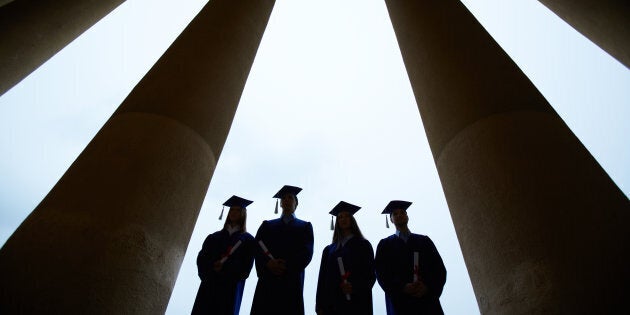 The Human Rights Commission Report, looking at university campuses around Australia, showed that sexual assault and harassment was at "unacceptable" levels, with 26 percent of students being sexually harassed and 94 percent of those not reporting it.
Sex Discrimination Commissioner Kate Jenkins has also been widely quoted on the report's release, saying it was clear that sexual assault and harassment at universities is happening at high rates in Australia, and it's absolutely true.
However, what the release of this report failed to address was the role sexual assault survivors played in bringing the report about. End Rape on Campus Australia founder and director Sharna Bremner said:
As someone who was part of the Australian Human Rights Commission working group, the launch of today's report was devastating.

It wasn't the data that emerged, however, that was upsetting. We already suspected that's how the results would look. The true devastation came from listening to the AHRC and Universities Australia's Margaret Gardner take credit for the work that was done by survivors, students and advocates.
The approach to the report's release played a role to further silence the victims, a group who already comprises, in part, of the 87 percent of sexual assault victims and 94 percent of harassment victims who don't make a formal complaint or report to their university.
Universities Australia has presented a 10-step plan in response to the findings, which cover a range of initiatives like continuing existing education campaigns, providing training, best practice guidelines, setting up a hotline, and follow-up surveys.
This is a start, no question, and it's a long overdue one. But the plan doesn't go nearly far enough and, worse, it's pointing in the wrong direction.
Many of the initiatives are important, but they're longer-term ones that require education, buy-in and cultural change at many levels in order to succeed. And they may never succeed.
The 10-step plan completely overlooks the perpetrators. Where is recommendation for rigorous action against them? There's no punishment for the offenders, no safety for the victims, and no stringent, defined approach for the universities to handle reports in a way that will actually help rectify this massive problem.
Further, while there are recommendations to keep education campaigns going and train up university staff to manage this endemic issue better, where is the explicit message to these people to not sexually assault and harass people?
Frankly, I got more excited reading a satirical post on Twitter today that Pokémons in Pokémon Go will scream at players if they go within a mile of registered sex offenders.
The launch of this report was a much-needed, factual delivery of data that has had a major impact. In the way that women aren't believed until a man advocates for them, the data has told a story that has been told and ignored countless times at universities, encouraging more victims into silence.
It's a shame that the release of this data didn't give the victims the voice they deserved, and I'm so glad that End Rape On Campus is giving a voice to both victims and allies.
But at some point, universities need to get hard on perpetrators, get serious about supporting victims, and this report is hopefully just the catalyst for sweeping reform that is decades overdue.
If you need help, or know someone who does, Universities Australia has set up a hotline on 1800 572 224. You can also call the national sexual assault, domestic and family violence hotline on 1800 RESPECT or 1800 737 732.