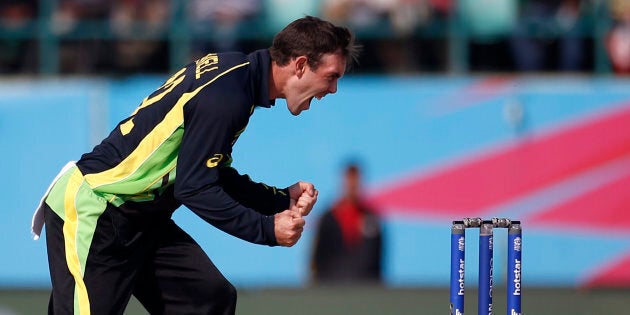 When Victorian cricketer Glenn Maxwell left the script at home last week and, heaven forbid, actually said what was on his mind, he was whacked around the head by the media.
But, in actual fact, he'd done us all a favour.
Maxwell hasn't made too many runs of late. He's not in the picture when it comes to Australia's Test team and he reckons it's not all his fault. In fact, he claimed that batting down the order was not in his best interests.
Remarkably, and almost unbelievably, he said as much at a press conference. Yep, he said what he thought. Extraordinary.
Maxwell's biggest mistake in his highly insightful and entertaining press conference was that he didn't conform. He didn't put the 'team' first. He showed signs of self-interest, all the while forgetting the golden rule that saying what you really think can get you in lots and lots of trouble.
Maxwell said it was 'painful' batting below his Victorian wicket keeper captain, Matthew Wade. When Maxwell was asked why Wade was batting above him, he said: 'I think because he's captain and he chooses the batting order.'
Typically, he was lambasted for these comments.
Most believed Maxwell came across as being selfish and as someone who was not a team player. From a team perspective this was out of line. After all, sporting organisations are communities who reward those that toe the line and follow the leaders.
The Australian cricket team fined him for being disrespectful. Australian coach, Darren Lehman, told him to make some runs.
Yet, for all the carry on, Maxwell's comments were refreshingly honest. And entertaining.
The stage-managed machine of professional sport is leaving a void of personalities in its wake and the world is a far more boring place because of it. It's now a world of micro-managed press conferences and appearances where off the cuff answers are left to a bygone era.
And team sports are the worst.
In keeping up with their expected norms, many athletes sweat it out at press conferences, carefully crafting answers based on the key messages their media manager has rattled off to them moments before the interview begins.
This means most athletes seem to believe it's simply far easier to say nothing interesting. They are too scared of creating a media storm or receiving backlash from fans online. Instead of getting honesty, we get a whole heap of nothing. Words without meaning. Sentences without feeling. Interviews without insight. Sports stars without personality.
It's stale and dull. Boring as hell.
And so to dress up the sports product and compensate for the fact many sports stars don't say anything interesting, millions of dollars are spent on publicity, launches and other match day entertainment, such as fireworks, dancers and music.
This razzle dazzle can be a good foil for the on field action where sports stars take centre stage. But if we don't be careful, we'll soon all be watching sport without the soul.
In any sport, the best entertainment comes from the entertainers themselves. Yes, all sports create characters because of the on-field heroics and memorable moments -- the six to win the match; the hat-trick; the underarm ball.
But some characters capture our attention from shooting from the hip, from speaking their mind, from creating a stir and questioning the status quo. They are the kind that talk the talk and then walk the walk with millions watching on. Not everyone likes them and not everyone agrees with what they say. Many actually want them to fail.
But these athletes should not be scorned for they have the courage to say something and, even better, mean it.
For the fans it's not enough to simply watch athletes in action. It never has been. We want some insight into their personality; their character; their thoughts. We want to like them or loath them.
We want to know who they are.