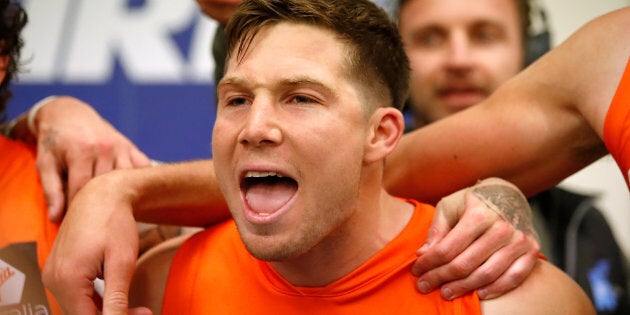 There are just six teams left in the hunt for the AFL's holy grail, and if your team's not one of them it's difficult to decide who to barrack for.
The Tigers have a tidal wave of emotion behind them. Their fans, known for being passionate, excitable and at times irrational, are as up-beat, enthusiastic and as positive as ever. And who could blame them? If they win the flag you'll certainly know about it, and it's fair to say you'll be reminded of it for many years to come.
The other Victorian team left in the race is Geelong. Since 2000, the Cats have won more games than any other team, including three premierships. So more than a few jealous footy fans seem tired, or perhaps resentful, of their success.
Then there are four non-Victorian teams: Adelaide, West Coast, Sydney and the Giants.
If last year's finals series taught us anything, it's that the game's greatest asset is its romance.
It seems very few are barracking for a Greater Western Sydney premiership except, perhaps, the AFL. I wrote last year that a Giants flag might just be the best outcome for the long-term health of Victorian football. I received plenty of feedback, and not much of it was kind.
For all the old clubs of Melbourne to survive in the coming decades, the AFL has to grow the pot of money. Last year the AFL gave every club at least $10.5 million. That was more than the salary cap, meaning the AFL basically paid the players. Some clubs, such as the Western Bulldogs and St Kilda, received over $17 and $18 million respectively.
The AFL, clearly of the belief that you have to spend money to make money, invested $21.5 million into the Giants. Total AFL distributions to all 18 clubs equalled close to $256 million.
And, for all of that, only seven of 18 clubs made a profit, with the AFL itself finishing the financial year with a net deficit of $17.8 million.
To put it bluntly, without the AFL's assistance, not all clubs would survive. If you were starting the AFL from scratch tomorrow, you'd never, ever start with nine teams in Melbourne and one down the road in Geelong. That would be considered too many professional teams in an already crowded sports market. It's just not economically rational.
So, to help the poorer Victorian teams along, the AFL is trying to attract more fans, new fans, to grow attendances and, importantly, TV audiences. They are looking to Sydney's west to do this.
The majority of the AFL's revenues come from its mega $2.5 billion broadcast and digital deals with Seven, Foxtel and Telstra. If they want that figure to grow, they need to ensure their product is more popular -- attended, watched and discussed by more people.
So, make no mistake, the AFL will always want strong teams north of the Murray, believing that if the game grows into more parts of NSW and Queensland, the old Victorian teams are a better chance of surviving in an increasingly competitive sports market.
Yet for all of that, perhaps reviewing annual reports in September to formulate economically rational arguments about who should win the flag is just plain stupid.
If last year's finals series taught us anything, it's that the game's greatest asset is its romance. As the Western Bulldogs swept past all before them, they did so riding a wave of emotion built on 62 years of frustration, disappointment, dreaming and hoping that bubbled over into unbridled excitement and joy.
It created an immeasurable amount of goodwill and positive sentiment that arguably did more for the game than any multi-million dollar investment in the northern markets.
The AFL can measure the bottom line and indeed they should worry about how best to grow it. But their greatest asset is the game itself and the stories it naturally delivers which are told in lounge rooms, pubs and clubs for generations to come.
This year's story is yet to be told, but the one that will be talked about most often in the decades to come is the one that starts with, 'Remember in 2017, when Richmond won the flag...'