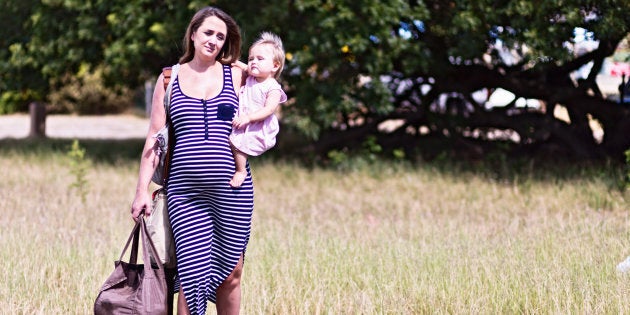 When I gave birth to my first child in 2015, I knew nothing about parenthood. I had never changed a nappy, I had never babysat an infant, I had never cleaned them or bathed them or fed them.
Naively, I wasn't concerned about learning these seemingly basic skills, because what I did know was that I would get linked in with a local, community operated Mothers' Group, supported by a qualified nurse, who would assist me in gaining these skills and connect me to other new mums who would provide me with the support I needed as I made the transition into motherhood.
There was no Mothers' Group.
There was no nurse, there was no education, there was no support network.
I lived in regional NSW and I was told that providing Mothers' Groups was simply not a funding priority and therefore not available in my area.
When we limit women's access to the one service that could provide a sense of comfort during an otherwise tumultuous time, we are torturing them.
I had many friends, in different parts of the country, having babies at the same time as me. This is how I knew about the Mothers' Groups. They had shared with me their own experiences and the wealth of knowledge and support this service had brought them, during the terrifying adjustment period into this new part of their lives.
I was the only one of my friends who lived a significant distance from a major capital city.
And I was the only one who was left alone, to stumble blindly through the first weeks and months of motherhood without any community support or guidance.
A Mothers' Group, generally, is a program funded through local government to assist mothers in the early stages of motherhood. Initial sessions connect women and babies who were born at a similar time, and are run by qualified nurses and midwives who discuss issues common among new parents. They help troubleshoot problems and come up with practical solutions, as well as connecting women to other local mums.
Generally, after the initial 'supported' sessions have finished (after anywhere from six to 12 sessions) many of the women continue to get together on a regular basis, often watching their children grow together over many years.
It is undeniable that there is value in women sharing the experience of new motherhood together. It can help them to feel less alone, more normal, and serve as an incredibly important support during a time when almost everything is new and unknown.
However, it can be incredibly hard to make new friends as an adult. Especially when you're an adult who is suffering extreme sleep deprivation, recovering from birth, learning how to parent and trying to discover who this version of 'you' now is -- because it's certainly a very different version of 'you' than you knew pre-parenthood!
Knowing how challenging new connections are in adulthood, add in to the mix the struggle of actually knowing where you could meet people who can understand what you're going through.
New mums often struggle to leave the house. They aren't yet familiar with local child-friendly activities or locations, because they've never been part of this world before. So if we leave them to fend for themselves, how exactly -- and more specifically, where exactly, do they go about doing that?
When we limit women's access to the one service that could provide a sense of comfort during an otherwise tumultuous time, we are torturing them. We are punishing them, and we are doing so simply because we've decided they live 'too far away'.
Regional and rural women are already isolated. They have less access to almost every type of resource and service. They are often far away from family members, may not have friendship connections within their local environment, and can easily spend days -- if not weeks -- not talking to another human being, other than their partner when they are available.
This set up does not promote a healthy or sustainable environment for women who are already in the vulnerable state of new motherhood, and already experiencing the physical and emotional isolation that comes as a result of where they live.
After three months of struggling alone with a new baby, and being told by any and all professionals that I reached out to that there simply were not services available for me, I decided I could not continue alone. I created a 'Mothers' Group' of sorts, online, reaching out to connect with other new mums in my local area.
The group changed my experience of parenting. Other women, also desperate to escape the isolation they found themselves surrounded by, took the opportunity (and the risk -- meeting 'Mum Friends' is very much like going on a blind date...) to come and meet at local parks. These park dates soon turned into brunch dates in each other's homes. Which turned into raw, honest, powerful friendships that have carried me through the first years of parenthood.
It wasn't easy, during a truly dark and challenging time, to add one more 'to do' to my life; finding and connecting with others for support, without having the slightest idea where or how to begin.
It could have been made a whole lot easier if the same resources that are made available to my friends in cities and suburbs with higher population figures, had been given to me as well.
Because all new mums need a helping hand.