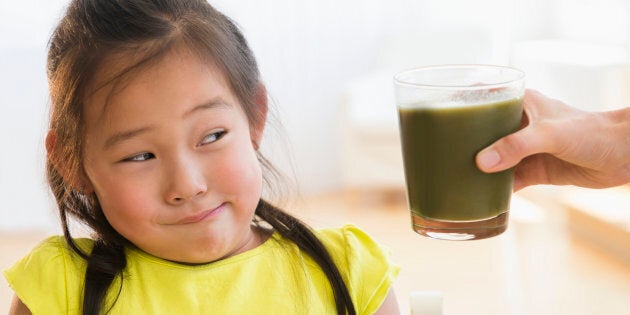 Recently I went to see a naturopath. She looked like Elle Macpherson, so I figured that was a good start. She was obviously doing something right.
For years I'd listened to yoga teachers talk to me about whole foods, organic vegetables and the benefits of whole grains and seeds. I'd listened with empathy, and interest. But never enough interest to embrace it totally. It sounded like a lovely place to be, if you had your own chef at home.
I understood the benefits of eating well, but I just never had the energy to make the big switch.
Having said that, since having kids I've upped my healthy eating credentials. This visit to the naturopath was part of a very slow journey I've been taking towards better eating at home.
It started in pregnancy. Like many other mothers-to-be I became incredibly conscious about what I ate. I even started drinking decaffeinated coffee.
After I had my daughter I started cooking. I know. What a revelation, right? It may give some insight into my attitude to food, but I have never been that interested in cooking. I ate well because my husband is a great cook. But now I was responsible for another life, it felt more urgent and necessary that I be involved in the preparation of her food.
But still... I wasn't a glowing earth-goddess feeding my child kale smoothies and organic food every day.
The initial excitement of seeing her eat food wore off at about the same time I returned to work. I discovered the squeeze packs of food, and they were easier to throw into the bag than whipping up my own fruit concoction.
Feeding kids healthy food takes energy, and sometimes I just don't have the energy. I feel guilty that I don't have the energy.
I want to feed my kids healthy food, but then there's real life... the Friday afternoon after a long week when both kids are having a meltdown, there's nothing in the fridge but a few left-over fruit squeezes, the house is a mess and all I want is a brief moment of peace and quiet.
What I really want out of life right now is to be a relaxed parent. Not a lazy parent -- I'm not saying I want to let my kids play in the busy street out the front of our house or eat marshmallows for dinner (though they would love me for that) -- but I want to be intuitive. I want to be able to trust my parenting instinct and enjoy parenting.
So being strict about food is not something I want to start. I want to let them eat ice cream on a sunny day, and have the odd biscuit at afternoon tea.
The naturopath gave me a list of potential foods for my family. She spoke to me about the value of eating whole foods. She advised I throw out all the sugar-filled foods in my cupboard.
It takes real effort to subscribe to this kind of diet. Organic food is more expensive, only eating fresh food involves meal and shopping plans, and then there's the soaking of beans and legumes.
I glanced down the list... and I felt it was time to be honest.
I told her I wanted to make the change but it all felt a bit hard. Fast food can be cheaper and easier, even though it's not the healthiest choice. We weren't eating junk food, so I felt the current way we were living was okay and maybe not so bad in the long run?
Her advice was to take baby steps and make healthy eating fun. Her tips included mixing up the way we ate (have picnics out the back, eating in the bath), and only offering a mouthful of new foods at a time.
And I think baby steps is the way I will go. If I take it slow (and it's been a long road just to get here) then along the way I will hopefully work out the right balance for my family, without losing my ability to be a more relaxed parent.