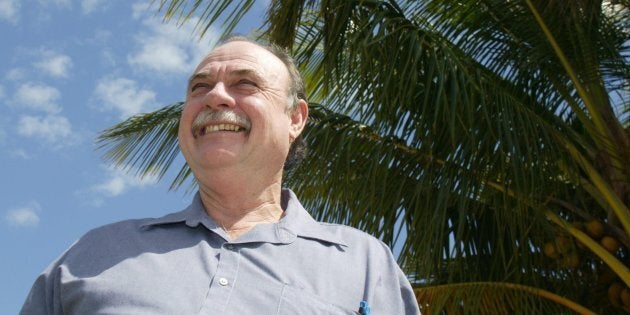 The movement for marriage equality has been strong and active across this entire country. We have been on the ground from one side of Australia to the other, having conversations with as many people as we possibly can.
We have received a lot of support and encouragement and have met so many extraordinary people who are doing everything they can to see a 'yes' result on November 15. We know that we can't afford to be complacent and that we have to keep working as hard as we possibly can if love is going to win.
This week, we wanted to turn the focus on what has been happening in Queensland, a state close to both our hearts. We wanted to consider how the campaign has been connecting with people in a region that is seven times the size of Great Britain with more than four million residents.
Ultimately, we believe that marriage equality strongly melds with values Queenslanders hold close -- supporting each other and lending a hand when it's needed most.
We want to see marriage equality won with a powerful 'yes' that will resonate across this entire country.
Queensland is the birthplace of many Australian icons, ranging from Qantas to Bundaberg Rum, and we think the mood in this state gives a real insight into the spirit across this country.
There was a time when Queensland was not known for its kindness towards gay and lesbian people. During the 1980s, Premier Joh Bjelke-Petersen, even went so far as to deny there were any gay people in the state.
Queensland was also the last state on the mainland to decriminalise male-to-male sexuality and didn't even have an equal age of consent until last year. Now though, Queenslanders are showing us their support for marriage equality and a fairer society.
As Queenslanders ourselves, we know first-hand that the state has undergone a remarkable journey over the past two decades. Over time, more and more people have opened their hearts to their LGBTQ friends, workmates and family members.
There have been many Queenslanders at the forefront of the marriage-equality movement. Warren Entsch, the colourful LNP Member of Parliament from Leichhardt in North Queensland, has supported marriage equality since 2004, long before most politicians in either of the major political parties.
In 2012, Queensland Senator Sue Boyce crossed the floor, becoming the first Liberal in Federal Parliament to vote for marriage equality. There are also a wide-range of currently serving Queensland politicians -- both Federal and on the state level -- who have made it clear they're voting YES. Queensland Premier Annastacia Palaszczuk and Leader of the Opposition, Tim Nicholls, are among them.
While the sheer size of Queensland might appear to present challenges in terms of reaching everyone, we have been really encouraged by the determination and hard work that everyday people are putting in to the campaign for marriage equality.
In Toowoomba, there have been popular marriage-equality market stalls. The local paper even reported that local man Bob Spearitt, an 89-year-old former high school principal, had become a social media hit after expressing his support for marriage equality.
We have spoken at community forums across the state, from the Gold Coast to Rockhampton to Townsville and Cairns. Time and time again, people tell us why this issue matters to them and show us that they are determined to win.
In Bundaberg, we heard from a young gay man who works as a teacher for children with special needs. He is a valuable member of the community, keen to help out where it's needed. For him, marriage equality would be an important message of acceptance.
In many ways, it is in these regional communities that marriage equality matters most. We both now live in big cities, places which are generally pretty friendly to LGBTQ people. But for those people living in regional and rural Australia, marriage equality will not only allow marriages to take place, it will send a powerful message of inclusion from their fellow Australians.
We are more than half way through this campaign but the momentum continues. This weekend, there will be opportunities to come together and show your support for marriage equality. There will be a rally in Brisbane this Saturday, October 21, at 1pm in Queens Gardens. There will be other rallies across this weekend in cities such as Adelaide, Canberra, Melbourne and Sydney.
We want to see marriage equality won with a powerful 'yes' that will resonate across this entire country. So much depends on this. With everyday people showing us just what a win will mean to them, we will keep urging everyone to return their 'yes' and to show their support for their fellow Australians