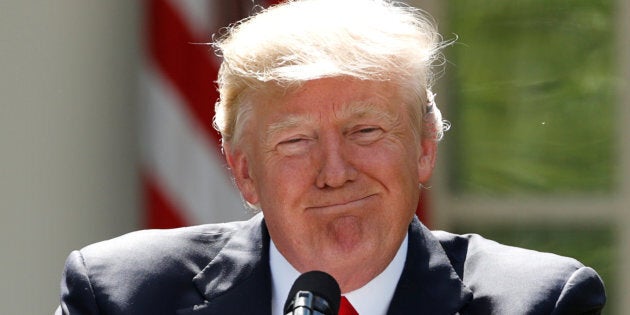 President Donald Trump has announced the US will be seeking to renegotiate the Paris climate accord. It sounds like big news. The kind of news that can be depressing for the wonderful people working to secure climate action. But it isn't all doom and gloom. A set of powerful realities mean that our destination has been set, we're just not sure how we're going to get there yet.
The first reality is that the US has confirmed it will adhere to the legal terms embedded in the Paris accord. This means that the US will not actually leave the Paris accord until November 2020 (which happens to be the same month as the next US election). And even when (or perhaps we should say 'if') the US leaves, the legal mechanism will survive, with more than 140 countries having ratified the Paris accord.
More importantly, China and the European Union have confirmed that their intentions are to uphold their Paris commitments. Both have booming renewable energy industries that are out-competing their US counterparts. Indeed, the global renewable energy sector is now a $1 trillion industry -- it's hard to ignore how quickly it's growing.
Despite all this, predicting the future is hard to do. The best futurists are those with skin in the game. That's why investors can often be a useful gauge of what our future holds.
So what are investors saying?
The reality of climate tipping points, the clean technology revolution and the will of global citizens to fight for our survival mean it is just a matter of time.
Regardless of President Trump's Rose Garden press conference, investors seem unperturbed. Just this week we've seen the world's largest asset manager, BlackRock, declare that 'coal is dead'. BlackRock even took the historic step on Thursday of voting for a successful resolution to force ExxonMobil to publicly disclose the risks that a carbon constrained world creates for the firm.
Warren Buffet, perhaps the world's most notable investor, recently declared at the annual shareholders meeting of Berkshire Hathaway that "if you are tied to coal, you've got problems."
So what gives investors such confidence, even in the context of President Trump's dramatic actions? Each of the fossil fuels, coal, oil and gas, is facing an uncertain future.
Big oil is in big trouble. Completely separate to the need for energy security, or the demand of Teslas, the real transition will be driven by the fact that cars are just going to be so much more efficient in the next decade. And this isn't just about the fuel-efficient design of modern cars.
My son, indeed all kids today, are unlikely to ever own a car in the way that many of us do today. Companies like Uber and car sharing companies like Go Get are already taking away the need to own a car in major cities.
But the real transition is only just getting started. The introduction of autonomous vehicles over the next decade will mean that a far smaller number of cars and other vehicles, being much more efficiently used, will be how we get around (when we're not using public transport).
Tesla is already trialing self-driving cars on the roads of California, and Australia is getting in on the action with local trials of a Tesla-Bosch hybrid. The benefits of autonomous vehicles mean that no matter what legislators try to put in the way, they just won't be able to stop the transition. The safety, cost, reduced traffic and time benefits will be immense. Known as the Transport as a Service (TaaS) revolution, electric cars will be the natural choice for autonomous vehicle fleet dispatch. That's because autonomous electric vehicles (A-EV) will be cheaper to charge, have lower maintenance costs, slower depreciation and better software integration. This impending revolution is already forcing investors to rethink the long-term viability of big oil.
Coal is in trouble, too. As more of the world switches on electricity, it is now cheaper to source that demand from new build renewable energy. And Australia isn't immune to this transition.
Solar, in particular, is set to win in Australia. The number of accredited, large-scale renewable power stations doubled in 2016 with solar accounting for 86 of the 98 new facilities. While this occurred, everyday citizens decided to go solar as well with rooftop solar households now reaching 2.6 million.
All of this is not to say that we aren't in trouble if we don't continue to act quickly. Markets alone cannot avoid climate tipping points. Climate science demands that no new coal plants are built and that existing coal plants need to be retired early. Despite this, there remain hundreds of proposed new coal power stations and mines on the drawing board, particularly in Asia.
The coal industry is fighting hard to maintain its position and continues to use its considerable political influence to secure not only approvals but also subsidies for new coal investments. The local Adani fight is evidence of that and that's why citizens, not just investors and business, are still needed in this David and Goliath fight.
But it's worth remembering that we are in a race against time, not against reality. The road to capping carbon emissions will continue to be windy but our destination is clear. The reality of climate tipping points, the clean technology revolution and the will of global citizens to fight for our survival mean it is just a matter of time.
ALSO ON HUFFPOST AUSTRALIA