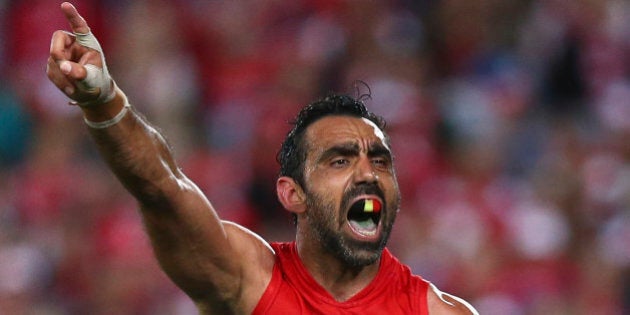 One of the key principles of Aboriginal society is 'pay back'. But not the sort you're thinking.
In Aboriginal culture, you give because one day you may have nothing. And then you 'pay back' because someone gave to you. That ethic has sustained Aboriginal life and culture for more than 60,000 years, and it helped us survive and thrive on one of the harshest continents on earth.
We are the world's oldest surviving culture, and 'pay back' has been at the core of our existence from day one.
With that in mind, there are many Aboriginal people to whom this nation owes a great debt, but today, one in particular deserves special mention.
Adam Goodes has quietly announced his retirement from the game after 16 years, 372 games, two Brownlow medals, two premierships, three Best and Fairest awards, four All Australian selections and a stint as Swans Co-Captain from 2009 to 2012.
Oh, and he was Australian of the Year.
I'm a rugby league man, so I'm not going to pretend I know why Goodes was considered so brilliant on the field, except to say that people I know who live and breathe AFL consider that Adam Goodes was truly one of the greats.
It came as no surprise to me then that Goodes handled his retirement the way he's lived his life -- on his own terms and in his own way.
It wasn't until he was back in the dressing room that he announced his decision to retire. He didn't seek the glory or grand exit from the field that goes with a person of his calibre leaving the game. Instead, he just quietly told his team it was time to hang up the footy boots.
He went out with the same humility that has been a feature of his sporting career, and from what I understand of him, that's typical Adam Goodes.
Of course, Goodes also came to symbolise much more than just an elite athlete -- he became a lightning rod for race relations in Australia. Goodes' determination to confront racism on and off the field has made him the stuff of legends, and the object of intense hatred. He both inspired and enraged millions of Australians, although there's no prizes for guessing which category I fall into.
From my perspective, the mark of the man was his decision recently to stand down from the game for two weeks, in part to gather himself, but also so that the outrage being directed against him didn't impact on his team-mates. Goodes is the model of a team player.
It's worth acknowledging that he's not the first Aboriginal sports star to take this stand, and I'm certain he won't be the last. That way was paved for Goodes by other Aboriginal greats, people like Timana Tahu, Michael Long, Nicky Winmar and Cathy Freeman.
And of course, Anthony 'Choc' Mundine, a rugby league player turned boxing legend who confronted Australians about their racism every single day, and who also lost a lot of skin every time he did.
The great difference between Goodes and Choc was the volume at which they spoke. Goodes didn't seek the limelight -- it was thrust on him. Choc did court debate, but there is room on the Australian sporting field for both styles, and a need for both as well.
We shouldn't forget that Goodes' goal was the same as those who've come before him: to stare racism in the face and call it out for what it is.
And here's what it is: Racism is ugly and harmful. It hurts people, it destroys self-esteem, it allows dysfunction to fester, it ruins lives and decimates families.
As the Chairman of the Redfern Aboriginal Medical Service, a community-owned, community-controlled organisation that has been working to better the health of our people for more than four decades, I can tell you that we see the effects of racism on our people every single day.
Our clinics are packed with sick men, women and children who suffer poor health, drug addiction, depression and everything in between. The one common factor in all of them -- the one illness they have all confronted -- is racism.
This is what Adam Goodes and those before him stood against. They fought for the right of our people to be proud in our own skin.
When Goodes called out a girl in a crowd for her racism, even though he couldn't have possibly known how young she was, he must have known at some level what was in store for him. Courage comes at a cost, and yet he did it anyway.
Goodes knew that in a nation like Australia, standing up against racism would be 'controversial', and he's been paying for it ever since. That says quite a bit about where we are as a nation. We have quite a way to go.
A lot of Aboriginal players in a position to confront racism choose not to because they're frightened of the backlash. Those men and women should know that while it might seem the easy road is to say nothing, in the long run, confronting the problem pays dividends. It earns you a special place in the hearts and minds of Aboriginal and non-Aboriginal people for something much more than just your sporting prowess. Athleticism doesn't automatically make you a role model. Just ask Share Warne.
The sad truth is, you're never going to knock racism out completely, and in particular you're never going to eliminate it entirely from sport.
The politics of racism will always be a part of sport in a sporting mad nation like Australia, where we take our sport far more seriously than we take our politics. There's always going to be idiots and rusted-on rednecks who refuse to confront the truths of their beliefs.
I think that's why the reaction to Goodes was so visceral. As Aboriginal people, we live on the fringes of society. We don't get to enter the lounge rooms of the broader Australian population unless we play by a set of unspoken, but very well understood, rules. That is, we 'don't mention the war'. We play nicely, we don't remind Australians of the price we paid for their comfort.
Adam Goodes didn't play by those rules, but he did manage to get into the lounge rooms of average Australians, every week from March to September and often in between. I think it was his mere presence that offended sections of Australian society so deeply. I think they felt 'invaded' by another recalcitrant black who didn't know his place, or when to shut his mouth.
On that front, Goodes' view on Invasion Day -- apparently one of the triggers for the tsunami of hate directed towards him -- also deserves a little attention on the occasion of his retirement.
If there is to be a national day in which we can all share, a day that celebrates all races, religions and ways of life in Australia then it needs to be held on a day that doesn't mark an invasion.
Ask yourself this: what civilised nation celebrates the day they dispossessed -- through slaughter and oppression -- another people?
That's the question that Adam Goodes asked of all Australians, and too many of us are still looking for the answer, although Adam Goodes has made the task a little bit easier for all of us.
From the Aboriginal perspective, if we continue to speak about it and continue to challenge it; and if others, such as Muslim Australians, Asian Australians, and all people of colour, continue to speak out and celebrate their role models; then I think things will continue to improve.
In the meantime, if you want to try a little bit of black culture, and pay back some of what Goodes has given us all, then you can support his work through the Go Foundation, named after Goodes and another AFL great, Michael O'Loughlin.
The Go Foundation has a very simple goal -- support emerging young Aboriginal leadership through the provision of scholarships. They are aiming to provide 10 full scholarships in 2015, with that number to grow year-on-year.
I hope you can generously 'pay back' Adam Goodes, because there's simply no better way to honour the work and sacrifice of a young Adnyamathanha and Narungga man who consistently put the welfare of others before his own.