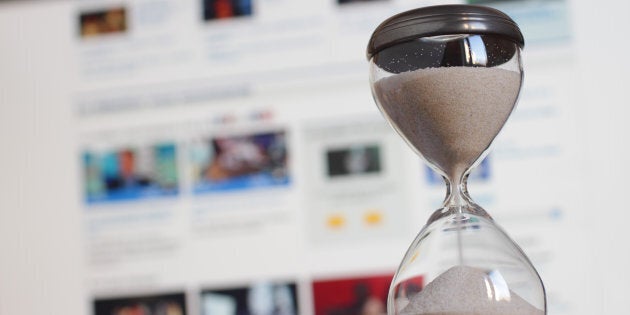 This week sees the 25th anniversary of the World Wide Web, marking a quarter century of our migration from the tangible world to the increasingly virtual one.
In that time we've gone from posting letters to sending emails, from an irregular catch up phone call with friends to catching up via Facebook, from writing cheques to online banking.
Just enjoy the shocked and confused face of a primary-school-aged child when you try telling them about how things used to be when you were their age. It's a quick reminder of how radically things have changed.
Faster communication and easy access to digital information are so normalised that even a short separation from the online world is a cause for mild anxiety. If you're under 30, it's a full blown crisis.
Being offline today means missing out. Missing out on keeping in touch with what's happening, missing out on being able to shop, buy tickets, fill out forms, make bookings. It also means access to vital services like employment services, Centrelink, disability services, family assistance, even banks and other financial institutions.
A fast, reliable Internet connection helps level the playing field for small business in regional and rural areas, particularly for those competing in global markets. It enables telemedicine and other advances that are especially important for older people living in remote and isolated areas. The same goes for education –- a superior "distance education" requires a strong Internet connection. It's as simple as that.
Ten years ago, federal Labor recognised a growing frustration in the community due to a lack of broadband access and came up with the policy that in time became the National Broadband Network. Resisted by the Coalition at every turn –- and still today -– the NBN changed the game for broadband access in Australia.
Broadband access is now recognised as key to economic growth and access to government services. McKinsey research into the Internet economies of the G8 nations found that on average the web contributes 3.4 percent to GDP.
As our online lives have grown, so too have the disadvantages of missing out. The internet is entrenching the economic disadvantage of those who aren't part of the digital world. So it's time to broaden our focus from a preoccupation with technology to a consideration of the broader economic and social issues surrounding digital access.
The release last week of the 2016 Digital Inclusion Index provides the most comprehensive snapshot of where the barriers to digital inclusion are and identifies those Australians who are missing out.
This collaboration between Telstra, the Swinburne Institute for Social Research, the Centre for Social Impact and Roy Morgan Research measures access, affordability and ability (i.e. basic skills, attitudes).
It tells us that there is a digital divide in Australia and one of the reasons for this is that for most Australians the cost of Internet access has gone up faster than their pay packets. This has a disproportionate impact on certain populations, including an 11 percent gap in digital inclusion between the city and regional Australia. Given regional areas generally have lower incomes they are hit with a double whammy; because there is a 6.9 percent gap between people on the lowest income bracket and the national average.
For homes and businesses on the wrong side of this divide there are fewer people with less devises connecting to digital services and they are paying more for the privilege of doing so.
The problem is that digital exclusion can have a snowball effect. Greater digital inclusion allows people to utilise technology to increase their wealth and decrease the cost of everything from accessing new markets to paying for services. All of this has a more profound impact on regional Australia because that is where the tyranny of distance is greatest.
In government Labor introduced a policy called universal wholesale pricing to cut costs for people living outside of major cities. But this has been scrapped by an out of touch Coalition. The Government has axed the optic fibre rollout and doubled the number of premises relying on satellites meaning more congestion and a lower quality of service for people in the bush. Because of Malcolm Turnbull's mismanagement, the rollout of the NBN is over-budget and behind schedule.
Digital inclusion can play a vital role in reducing inequality, but only if we listen to the needs of rural and regional communities and provide the communications infrastructure required. On the quarter century anniversary of the World Wide Web, let's bridge the gap and share a future without digital "haves" and "have-nots".