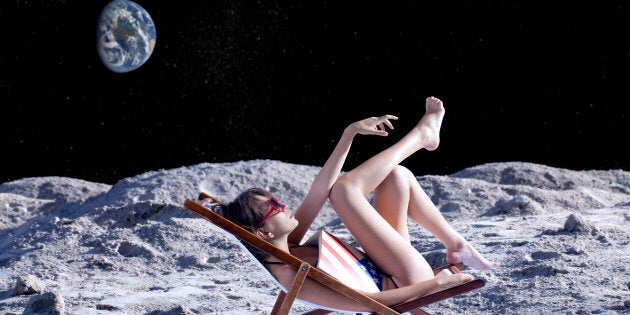 Elon Musk's spacecraft company SpaceX is planning to launch two tourists on a private 'mission' around the moon in 2018. Richard Branson's Virgin Galactic is also close-ish to launching tourist-laden flights.
Space tourism is an amazing concept, but think of the downsides. We'll be potentially rocketing our planet's rude tourists into outer space. Which could actually be a good thing, if it weren't for return tickets.
At this stage, intrepid space tourists obviously won't leave the spacecraft; they'll just be peering out the window (this is when you WILL want a window seat). Eventually we'll be doing day trips to other planets, solar systems, galaxies, even universes (universi?).
Here is my advice for would be space travellers:
*As you board the spacecraft, don't hog the overhead locker. You'll only be wearing the one spacesuit, you won't need 437 suitcases.
*Don't disturb the person next to you when continually floating to the bathroom, or joining your friends a few rows back for a space food stick.
*Please pay close attention to the inflight safety demonstration, especially the bit about the whistle and light on your life jacket. Actually, don't bother, in space no one can hear you whistle.
*While strapped into the spacecraft, please don't let little Trevor kick the back of the seat in front of him. It's a long flight.
*Trevor continually whining "Are we there yet?" is rather pointless, you're in space, and the distances are quite long.
*If you book a trip to a resort on Mercury, which is the closest planet to the sun, don't forget your 2,000,000 Plus sunscreen, it's a tad warm.
*Avoid saying things like "Really? That's Jupiter?! Is that it? I thought it would be so much bigger."
*When you're on Neptune, don't take out someone's eye with your humongous selfie stick while getting the perfect shot of Uranus.
*Don't be the annoying person who continually whinges, "Everything is so much better / cheaper / cleaner etc back on Earth."
*When you're buying a souvenir on Venus, please don't ask, "But how much is that in dollars?" Also, don't haggle. The concept is foreign to anyone but irritating earthlings.
*Surprisingly, not everyone on Jupiter speaks English.
*American tourists, please don't be obnoxious. You're not on Earth anymore. Please STFU, show some respect for a change. At least the space suit will cover up your bumbags ("fanny packs" to you), and the compulsory sandal and socks combo for Germans.
*Speaking of German tourists, you won't have to run out at 3 am to reserve a sun lounge on Mercury. It takes just over 58 Earth days for the sun-worshippers of Mercury to experience a single day. Also, I wouldn't do the nudist thing on Mercury.
*Australian tourists, please don't be a bogan. The good people of Saturn haven't had a close encounter of the bogan kind. Don't be the first.
ALSO ON HUFFPOST AUSTRALIA