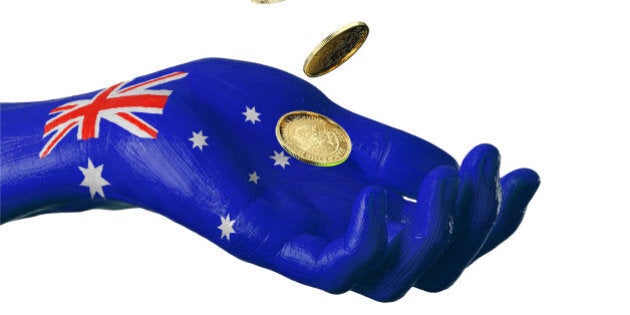 Regardless of the actual number of charities in Australia, it feels as though they are everywhere. Nearly every day we see charity street collectors and receive window-faced envelopes in the mail, read crowdfunding requests and watch charity television ads.
Charities have become very good at attracting our attention, because they need to be. The 2014 Australian Charities Report, published by the ACNC in December 2015, found that donations and bequests account for a huge $6.8 billion of annual charity income.
While most of us could recall the names of a few charities, there are actually 54,000 registered charities in Australia. When I have mentioned this in public forums in the past, it is almost always followed by: "That's a lot, is 54,000 too many?"
Firstly, the federal legislation guiding the work of the ACNC does not set a minimum or maximum number of charities for Australia. Other common-law countries take a similar approach. Citizens have a right to freedom of association, and regulators need to have legitimate grounds to refuse charity registration applicants.
It is interesting to consider comparisons with similar jurisdictions to see approximately how many people are served by each charity.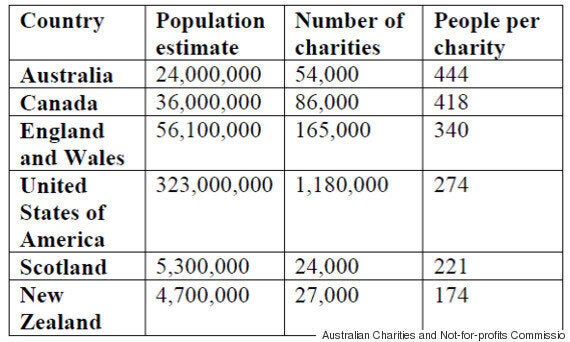 What this comparison tells us is that Australia actually has fewer charities per person than similar countries. That is, each Australian charity is responsible for providing services to more people compared to other countries.
Even though we may have proportionally fewer charities than other countries, 54,000 still sounds like a lot. However, this doesn't take into account the wide range of work undertaken by charities in Australia.
If you visualise a typical town, many of the services such as child care and Scouts are charitable. Did you know that your local Rural Fire Service, Surf Life Saving Club and Returned and Services League are also likely to be registered charities? Many private hospitals and aged-care facilities are charities, too.
Thousands of churches, temples, synagogues and mosques across Australia are registered with the ACNC, as are most non-government schools.
In fact, the 2014 Australian Charities Report found that universities, which are not often associated with being charitable, are some of Australia's largest charities, with annual incomes in the billions.
So while we often think of homeless shelters or other services for the disadvantaged as being typical charities, this type of welfare activity only accounts for around 20 percent of all charities.
Smaller charities have considerable strengths: many are rooted or embedded in their local areas, and play a key role in building and nurturing social networks. They also boost local social capital by building local capacity and developing links both within particular communities and between them and other networks and bodies, and are considered uniquely well-placed to engage directly with those who are hardest to reach.
Starting a new charity, while potentially very rewarding, can be difficult. At the ACNC, we encourage people to consider working with an already-established charity, rather than starting a new charity and using valuable resources on the set-up.
The boards of existing charities should constantly be looking for ways to be more effective by considering strategic alliances, sharing resources and possible mergers. There are a range of free guidance materials available for charities considering such options. However, it is important to note that such decisions are for the charity and not the regulator.
Charities come and go. Since the ACNC was established in late 2012, we have registered around 8,000 new charities. In the same period of time, we have revoked or removed over 13,000 charities from the ACNC Charity Register -- mostly because they were no longer operating or failed to report for two years.
In fact, charities make the decision to close down on a daily basis. Some are set up to achieve a short-term goal, others simply can no longer sustain their work through lack of funds or volunteers.
Based on the experiences of other jurisdictions, we expect that each year as we register new charities, a similar number will simply cease operating.
Every well-run charity in Australia operates for the public benefit and brings together a community of donors, volunteers and beneficiaries to enhance civil society. Having said that, we need to be aware that competition for shrinking donations, grants and contracts, as well as red tape, can sap the resources of charities and encourage them to collaborate and achieve efficiencies where possible.
So, to answer the question -- are there too many charities in Australia? In my view, we can only say yes to that when we are confident that we are efficiently and effectively meeting all community needs not covered by government in every part of this vast continent.