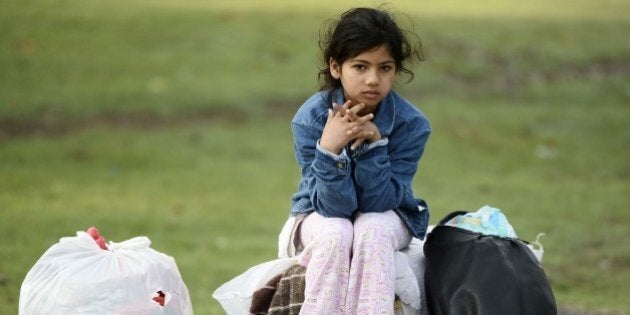 Along with many other Australians, I have watched the Syrian refugee crisis unfold with great sadness. Syria shares a border with my late father's birthplace in Lebanon, so I feel a strong connection to the peoples' plight.
This sense of connection was made stronger with the arrival of an email about a month ago. It came from the Syrian driver who had looked after us during our family holiday to Lebanon, Syria and Jordan in 2010, just before the civil war began in 2011. We had not heard from him in the intervening five years. He simply said: "Life is getting bad here -- we need help."
What is the tipping point that prompts a dignified man to reach out to a relative stranger? It is the desperation of relentless fighting, food shortages and dwindling options for keeping his family safe.
I know that many Australians are also searching for ways they can help. The Australian Government has announced welcome measures to increase our refugee intake, but what can ordinary citizens do to help?
The simplest and most effective way is to give cash donations to charities with an established presence in the area. Cash is preferable to goods because it allows charities to purchase culturally appropriate food and clothing. Goods can also be expensive to transport.
Paul Ronalds, CEO of Save the Children, says that stocks bought locally can also create jobs for local people, reducing the likelihood of the host community getting donor fatigue and becoming unreceptive towards the refugees.
It is noteworthy that countries such as Turkey, Lebanon and Jordan, where many of the emergency relief centres and refugee camps are, are themselves challenged and are now sharing their limited water supplies and resources with millions of refugees.
The need is great. Refugee camps have been forced to reduce food rations -- the money is running out. There are 1.2 million refugees now in Lebanon -- this is one quarter of the population.
Giving cash donations to established humanitarian charities can collectively have an immense impact. You can be confident that your donation will support vital on-the-ground operations. They have been at the forefront of the conflict since the beginning.
The public can find these charities, including the countries in which they operate and their beneficiaries, by searching the ACNC Charity Register at acnc.gov.au/findacharity
Being registered with the ACNC means that charities meet governance standards, and their operations are transparent. Donors can give confidently knowing there is regulatory oversight of these charities.
The ACNC recommends the public donate to charities that are also members of the Australian Council for International Development (ACFID), the peak body for Australia's aid organisations. ACFID's member charities can be found at acfid.asn.au. ACFID also provide a factsheet on why cash donations are preferable to goods.
We are in the midst of a major humanitarian crisis and effective charity is essential. I know Australians want to help. I urge people to make informed decisions about donations and, if they can, to give generously.
Susan Pascoe is the Commissioner of the Australian Charities and Not-for-profits Commission, the national charity regulator.