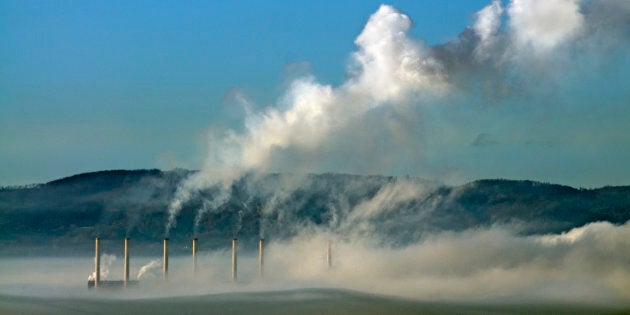 As Nobel Laureate Bob Dylan so famously sang, "the times, they are a changing". And he is right, especially in the context of our world's climate and the way we power our lives.
Climate change impacts occurring now demonstrate the inevitable need for an energy transformation, despite our Prime Minister Malcolm Turnbull's misguided declarations that coal will be part of Australia's energy mix for "many, many, many decades to come".
Today, after much speculation, it has been reported that Engie, the French majority owner of the Hazelwood Power Plant in the Latrobe Valley, will close the mine once and for all. The news should not come as a surprise to our Prime Minister.
Hazelwood may have served an important role in bygone years, generating a large portion of Victoria's electricity (recently as much as one-quarter), and providing up to 900 direct and indirect jobs in the Latrobe Valley.
However, Hazelwood was built in the '60s and it was built for a different era. If we think back to that time and the technologies we used -- such as rotary telephones, cassette tapes and mainframe computers -- it should not be surprising that this old, outdated and very polluting technology is well past its used by date.
The announcement of Hazelwood's closure follows news that the premier global atmospheric tracking centre in the southern hemisphere in Cape Grim, Tasmania, just recorded a carbon dioxide reading of 404.42 ppm, which experts revealed is by far the highest reading during the past three glacial cycles stretching back over 400,000 years and also the fastest increase rate on record.
Hazelwood spews out more pollution per megawatt hour of any power generator in Australia and is up there with the highest polluting power plants in the world. Clearly, from the perspective of its owners -- Engie and Mitsui & Co. -- it is also an increasing liability, which is expensive to run and not even worth selling.
Today's Hazelwood closure follows hot on the heels of closures such as Anglesea in Victoria, and Northern and Playford B in South Australia that happened without a proper transition plan, leaving communities without certainty as to their futures. More will undoubtedly follow. We desperately need this transition to be managed. That means a national clean energy transition plan that manages the orderly, phased retirement and replacement of coal-burning power plants.
Coal is becoming a redundant technology as new electricity generation speeds up around the world.
The International Energy Agency has reinforced this point with a recent report showing that for the first time, clean energy made up more than half of the net electricity generation capacity added around the world last year. They have also predicted that capacity from renewable sources will grow faster than oil, gas, coal or nuclear power in the next five years.
China, for example, which is leading the way globally in the growth of renewable energy is also rapidly changing their plans for coal with reports that the government is stopping work on the equivalent of the combined coal-fired capacity of the UK and Spain.
The Paris Climate Agreement, which will enter force on Friday (4 November), will confront the Australian government with a set of commitments it is not yet prepared to meet. Australia's pollution is rising and our government has made no effective policy to transition the energy sector and meet even our low Paris targets.
The retirement of Australia's biggest polluter evokes a mixture of emotions: relief that pollution from this dirty source will soon end, yet heartfelt concern for the Latrobe community that must now face a bigger transition.
If properly handled, Australia's energy transformation ushers in a new era of opportunity. As new modeling from the Australian Conservation Foundation and the ACTU shows, strong, reliable and consistent policies to address climate change, cut pollution, prepare communities and drive the transition to clean energy can provide Australians with one million new jobs by 2040.
Hazelwood's closure is yet another wake-up call that Australia needs a national energy transition plan that embraces the opportunities of clean energy, phases out polluting power and ensures a just transition for impacted communities.