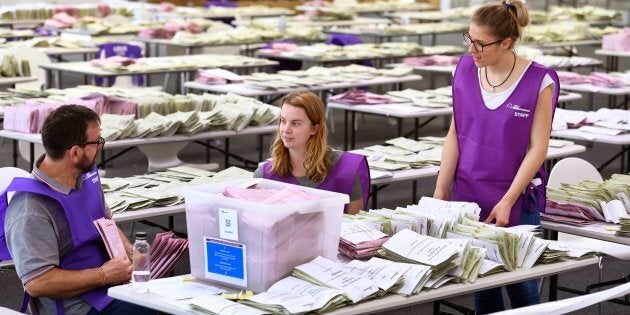 While Australia reels from an unsettled election, one thing remains clear: the next government will need to act quickly on climate change if we are to honour Australia's Paris Climate commitments. In fact, without a change of policy from our federal government, we currently stand little chance of meeting our agreed targets to reduce climate pollution 26-28 percent by 2030 based on 2005 levels.
The Paris Climate agreement is designed to cut global carbon emissions as fast as possible and to achieve net zero climate pollution well before the end of the century. It includes a goal to keep global warming below 2 degrees, and to pursue a 1.5 degree limit -- critical if we are to avoid the most catastrophic impacts of climate change and to keep the world's coral reefs alive.
So, what does this mean for Australia's next government? The political chaos in Australia is reflected elsewhere, most notably the United Kingdom on the back of the Brexit vote and in the United States with a Presidential election next year. However, political uncertainty in these countries has not halted progress on climate change.
This sentiment was reinforced last week when the UK government agreed to adopt a goal of cutting 1990-level carbon emissions 57 percent by 2030 -- keeping the country on target to meet its long-term, legally binding goal to reduce emissions by 80 percent by 2050.
In the US, President Obama has refused to bow to big polluter pressure against taking serious climate action. Not only has the US committed (alongside China) to ratify the Paris Agreement this year, last week President Obama signed onto a North American Climate, Clean Energy and the Environment Partnership with Canadian Prime Minister Justin Trudeau and Mexican President Enrique Peña Nieto.
The partnership is far-reaching and includes a historic goal for North America to achieve 50 percent clean power generation by 2025 through clean energy development and deployment, clean energy innovation and energy efficiency. It is the kind of genuine carbon cutting action we need to see here in Australia.
But in the election chaos, Australia's climate policy is currently left sitting dormant -– susceptible to changing political whims. Climate leadership is now essential to transforming our massively polluting energy sector, and to provide the business and investment certainty needed for new clean investment.
Before the recent election, both major Parties committed to some form of climate policy review. The ALP will conduct an Electricity Modernisation Review and determine the mechanism that will be used to drive their 50 percent renewable energy target. The Coalition has referred repeatedly to a 2017 climate policy review that appears to be the catch-all for all things climate and policy. The Direct Action Plan is still holding court as the Coalition's centrepiece climate policy, but with no additional funding in the latest budget, and emissions going up there genuinely is need for urgent review.
Climate policy cannot wait while the world moves around us, while we miss out on the wave of global investment that is happening in renewable energy and energy efficiency, and while we go backwards on our international climate commitments.
What's needed is an urgent broad-based review that prioritises the closure of dirty coal power stations and growth of renewable energy, that sets Australia on the path to efficient, effective and durable policy that will provide certainty for investors, and that rapidly turns the tide on Australia's growing climate pollution.