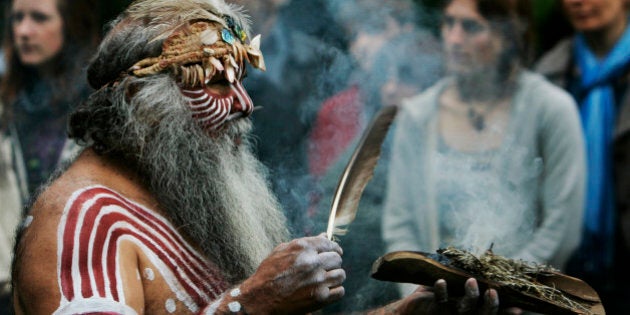 Same rhetoric as last year and the year before, same applause from those members of Parliament who actually bothered to show up.
I asked some of my community members what they thought of the report. They said "What report?" How little impact Closing the Gap has had on their lives.
A grandmother said to me: "Tauto, I came home from shopping and the police were sitting in my lounge. I asked why and they said 'We only have to have suspicion of you or any member of your family or your community committing a crime and we can walk straight in'."
She was frightened. This is the harsh reality of daily life for many Indigenous Australians. Where does Closing the Gap fit here?
Numerous reports and articles are continuously being written by learned people telling us the system is broken and it's failing the most vulnerable -- the traditional owners of this country.
Many social indicators of Indigenous disadvantage are not included in the Closing the Gap targets. If they were, the picture would be even more bleak. Add to Closing the Gap the appalling incarceration rates, the horrendous rate of Indigenous suicide -- the worst in the world, the creating of a new Stolen Generation through the removal of our children from their families, the forced closure of our communities, the destruction of sacred sites and now the possibility of the world's nuclear waste dump on Aboriginal land.
But wait, there's more. Throw in the racism that has reared its ugly head in Australia in recent years and the "get over it" attitude of a significant proportion of the wider population, and then ask why the targets aren't being met.
The gap will never be closed until State and Federal governments start facing up to the reality of everyday life for Indigenous people, and lay to rest their missionary approach to Indigenous affairs.
There are numerous examples of this: Twiggy Forrest's Creating Parity Report, government consultation with a select and unelected body of advisors, mainstreaming of Indigenous services. Even the bulk of the recent Indigenous Advancement Strategy funding went to non-Indigenous organisations, who supposedly better know what will work for us than we do. Yes, just like the missionaries of old.
It's time that Indigenous Australia once again had a truly representative voice at State and National level. A body elected by Indigenous people, for Indigenous people from across the country. One that cannot be dismantled, as was ATSIC by the Howard government. Our issues of survival and advancement should not be dictated by non-Indigenous politics or by a few hand-picked Indigenous advisors to government.
It's also time for government to remove the shackles that we've been wearing ever since 1788. Get rid of the evils of the Northern Territory intervention. Lay aside the multi-million dollar advertising juggernaut of Recognise, which is a feel-good diversion for government and non-Indigenous Australia.
Join the rest of the modern world and talk about Treaty and Sovereignty with Australia's First Peoples.
Shamefully, Australia is the only Commonwealth country that has not negotiated a Treaty with its traditional owners. This is a sad indictment on this country and has created a real barrier for meaningful change.
A Treaty would empower us, bring pride and outcomes, allow us to make decisions for ourselves and put us in charge of our own destiny.
Closing the Gap is just another set of targets put in place by non Indigenous people, and will eventually be replaced by something else when the reality sets in, in 2018, that it has failed, that the rhetoric never provided a magic bullet to end our disadvantage.