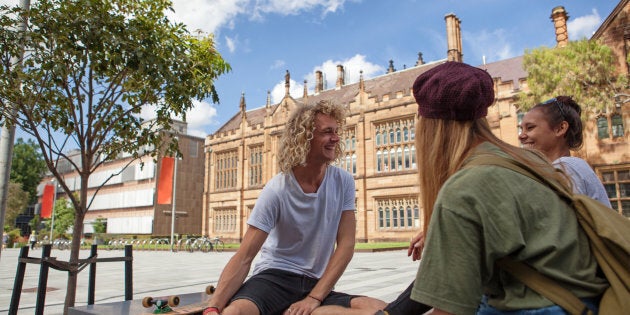 What we want and need from higher education is changing. Cuts, fee hikes and payment threshold reductions put quality and participation at risk.
There are deliberate and direct offerings that complement or replace university learning, depending on your perspective. 58 million people worldwide have signed up to free online courses offered by universities or entities that seek to disrupt them.
More than five years since Stanford started offering some of its courses online for free, providers have become increasingly sophisticated and now offer certification.
Australian universities are also looking at alternatives to the full completion of a degree. It's not just about their lobbying to be able to offer sub-bachelor degrees within the HECS-HELP system. Some are considering offering, and some have started to offer, students the option of taking three or so undergraduate subjects to receive certificates, rather than graduate with a full qualification.
It is unsurprising that there is demand for more flexible ways of obtaining university-level skills and content knowledge.
As our working lives grow longer and more diverse, not to mention more precarious, there is an imperative to balance our ongoing learning with the demands of paid employment and unpaid obligations.
We need to be able to study, and we need to be able to do so around putting the kids to bed and spending often unpredictable amounts of time at work.
Hiking up fees will make it harder for people to afford higher education, with knock-on effects on how they live while they carry the debt, lasting many, many years.
It is not just mature people with families and full-time jobs who need flexible study options. Young people -- those not lucky enough to be able to live with family -- don't get a discount in the private rental market or at the supermarket. They are in paid employment, trying to make it work with uni, too.
Despite these challenges to formal education, and the way that the changing nature of our working lives is changing what we need from universities, there is great value in the university model: Formalised teaching, high-quality standards enforced through regulation, meaningful qualifications obtained after extensive study, and research, for industrial application and for its own sake.
We benefit from having doctors and engineers whose qualifications we trust. International education is one of our most important exports so we benefit from having universities with good reputations internationally. We benefit from the ideas that are generated through research. We benefit because of the contribution that universities make to increasing the nation's productivity.
As a nation, we don't just benefit from the fact that universities make us more prosperous; we benefit by being a better nation than would otherwise be the case. We benefit from having amongst us people who have committed serious time and energy to study, to learn about new ways of thinking. And we benefit from having respected institutions that form part of the fabric of our nation's public life.
For these reasons and many others, government actions that would undermine the quality of higher education, make it harder for universities to plan and to improve and create impediments for citizens to engage with higher education, should be rejected.
The Turnbull government's higher education funding cuts amount to almost $4 billion, at a time when other countries in our region are increasing their investment in higher education. On top of these cuts, the government will reduce the funding committed to universities by a further 7.5 percent, offering a commensurate amount as being up for grabs if universities meet as-yet-unspecified requirements, seemingly to be imposed at the discretion of the Minister.
This will embed uncertainty. With year-to-year funding, it will mean greater insecurity for Australia's higher education workforce -- around 130,000 people. Planning will be made more difficult. Performance incentives must be done well to avoid adverse consequences. Cutting funds and embedding uncertainty, reveals poor design.
At the same time, hiking up fees will make it harder for people to afford higher education, with knock-on effects on how they live while they carry the debt, lasting many, many years.
Higher fees means higher private debt being borne by households. As one university told me recently, kids from poorer backgrounds, who've had jobs since they were 15, understand money and are sensitive to debt. It's not just school-leavers, a woman in her thirties might think twice about part-time study given the debt she would be taking on. And if you're still carrying substantial student debt 15 years after studying, that could well affect your household's spending.
The Turnbull government doesn't seem to care about how their higher education cuts might affect poorer households, mature women, or others whose participation in higher education might be affected.
That's not surprising, this is a government that cut higher education equity funding by more than $150 million last year.
They're also preparing to start putting their hands in the pockets of people who earn barely more than the minimum wage, to pay for higher education. If you're earning $42,000 a year, the private benefit you are supposed to have derived from university study is not readily discernible. This measure, like so many actions of this Turnbull government, will disproportionately adversely affect women.
The Turnbull government should scrap its cuts and fee hikes. Mr Turnbull should take his hand out of the pockets of people earning $42,000 a year. And as a parliament, we would all do well to avoid being responsible for weakening Australian higher education.
ALSO ON HUFFPOST AUSTRALIA