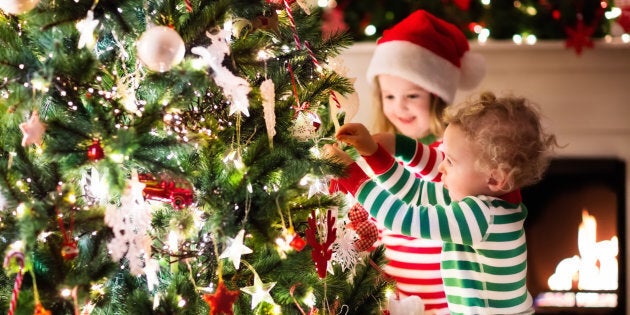 Here we are, ladies and gentlemen. Another year has passed and as schools run out the timer and teachers near and far drink to forget the rotten students of the past 12 months, we all gather together to celebrate Christmas.
It's funny how much I love Christmas. Some of you may think of this as a time where unpredictability is as common as malls playing Christmas jingles. What I have learned, however, is that there are some really common and well-structured moments to this wonderful celebration.
It wouldn't be a holiday if we didn't ask ourselves why we as a community celebrate it. Why do we catch up with our friends and family and celebrate such an occasion. I mean, we don't all gather together to give gifts like that jolly bearded man that brings the gift of happiness; you know who I'm talking about... Zach Galifianakis.
I remember Christmas as a kid quite fondly. As the weeks before December 25 came closer, my family would put the Christmas tree up, watch 'Home Alone' 2 (frankly the best 'Home Alone' movie) and get ready to see one of my cousins. Every year we've had Christmas at one of my cousins houses (the Kuzma Clan is a massive one).
Christmas would come and I would be on cloud nine, grabbing my presents and opening them to see the latest Crash Bandicoot game or a Beast Wars character. My parents were always very good at knowing what gifts to get me. You know how presents can feed our passions.
But sometimes it can be really hard to hide our emotions.
I remember the Christmas of '99. Dad was getting worried about what he was going to get me. I promised him that the most important thing for me was that he was picking out a present for me. Come Christmas Day, I unwrapped his gift and burst into tears, as I discovered that he got me some stupid army game. Sorry Dad, I now realise how ungrateful this must have seemed.
Christmas can be really intense for anyone on the spectrum. As a teachers aide, I see a variety of emotions going around the classroom, and occasionally there is the odd tiff about whether Santa is real. This holiday can be very accommodating, if you know how to take the encompassing event.
My cousins now realise that when I ask, "When are you leaving?" it's not because I want them to leave, it's just so I know how much time I get to spend with them. When it comes to food, I know which foods I have become accustomed to. From Babcia's Pierogi (Grandma's Dumplings doesn't sound appetising) to my auntie's coriander-coated three-bean salad, I know what's tasty and what isn't.
The three main areas of difficulty that people on the spectrum normally face during Christmas are intertwined with the sensitive senses that we have. The loud music, the delicious smells for the kitchen, bumping into relatives and having to socialise throughout all this can be rough.
When things get rough for me, I go to a quieter room and spend time having a one-on-one chat with my favourite uncle. Tad, that's you!
Looking back at the years I have celebrated Christmas I still ask myself the same question. Why do we celebrate this holiday? This isn't just a question for ourselves but for us as a community. Why do we gather together to celebrate Christmas, Hanukah, Kwanza or the other festive holidays at this time of year?
I think I have found the answer. I still enjoy receiving the gifts and writing out a list so Dad doesn't get me another army game, but there must be something more. When I get a gift for someone I want to make sure that it is a representation of the relationship that I have with that person.
For example, for my oldest friend's 21st I got him 'Crash 3 Warped', the first game we raced each other in! Last year I got my dad the first four seasons of Becker, a show we both love. I got Michael a Poncho because of our love for adventure and ponchos.
I love that these holidays take place at the end of the year because it gives you time to reflect on the past 51 weeks and see what you have accomplished. You may have had a wonderful year, getting a promotion at work, finding a new book or even finding a new love. For others, I know 2016 has been difficult. For those of you who are feeling low, remember this. Your greatest achievement was making it through the year. That's what matters.
Now onto the final piece of this whole scroll of text. There has to be an answer to this silly question I have asked twice, for those tuning in I'll repeat the question one last time.
Why do we celebrate this holiday?
For me, Christmas is about how you, your family and friends have grown together over the past 12 months. That's why we give gifts, that's why we sit around the table and enjoy each other's company. It's why you put up with that one annoying friend who can be a bit too overly attached. Because you care for them all.