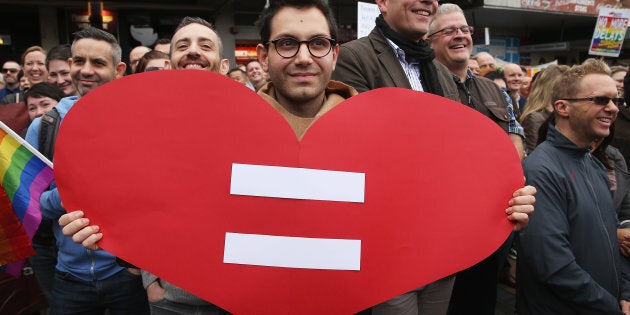 Last week Australia took a real and significant step towards making marriage equality a reality with the report of the Senate committee on same-sex marriage. The committee set out a unanimous analysis on the key areas to be considered in passing a marriage equality bill.
It doesn't sound very exciting at first, but this is not a normal political process story. The events of last week have changed the political landscape on the issue in several critical ways and the pathway to marriage equality has become clearer as a result.
Firstly, this report is not about whether there should be marriage equality in Australia, it is about what the introduction of marriage equality would look like. This is a seismic change in the political landscape and one which would have been inconceivable only a short time ago.
The committee forensically sets out in detail the areas that would need to be considered rather than just settling into a simplistic and divisive winner-takes-all approach. There are genuine questions that some people have about the impact of marriage equality. For those of us who support marriage equality, we have to see how best we can reassure those people, confident in the knowledge that the case for marriage equality is a good one that will take from no one.
The committee has confirmed that any marriage equality legislation should not impact on the rights of ministers of religion to conduct religious marriages in line with the doctrines of their faith. This is about civil marriage and not religious marriage. The committee has highlighted the need to ensure that people of faith, including civil celebrants, could not be discriminated against in education, employment and accessing goods and services, and balance that with the rights of LGBTQ people to have the same legal status and dignity for their relationships that is available to everyone else in Australia.
Secondly, the committee has made clear that where there are any religious exemptions to the marriage law, as exists already in practice in many areas such as divorce laws, then those exemptions must not single out LGBTQ people for discrimination. It has rightly said that it would be wrong to single out one group in the population. Singling out one group would have sent a clear message to both LGBTQ people and the rest of society that the status of LGBTQ relationships are somehow separate from everyone else's.
Marriage equality is not the sole preserve of any one political party and nor should it be.
Finally, the committee showed that political parties can work together across party lines to deliver marriage equality. The membership of the committee came from a wide range of opinions on the issue, including opponents. Despite this, they collaborated to deliver a unanimous position. In doing so, they rose above party politics and set a precedent for the rest of parliament to follow as we take the next steps along the way to marriage. This is essential for reform to happen in this parliament as no party has a majority in both houses of parliament.
Marriage equality is not the sole preserve of any one political party and nor should it be. There are committed advocates for the issue right across the political spectrum. The committee chaired by Senator Fawcett has set the standard for how to proceed and deserves to be well praised.
The Australian people support marriage equality. Poll after poll shows that they have done so by a clear majority for years now. There is a majority in favour of marriage equality in parliament as well. The members of then Senate committee have shown there is a pathway to passing this in a way that brings people together. It is time parliament followed the leadership shown by the senators, did their job and passed marriage equality in line with the wishes of the Australian people.
Last week was a good week for making that happen.
If you would like to submit a blog to HuffPost Australia, send a 500-800-word post through to blogteam@huffingtonpost.com.au
ALSO ON HUFFPOST AUSTRALIA