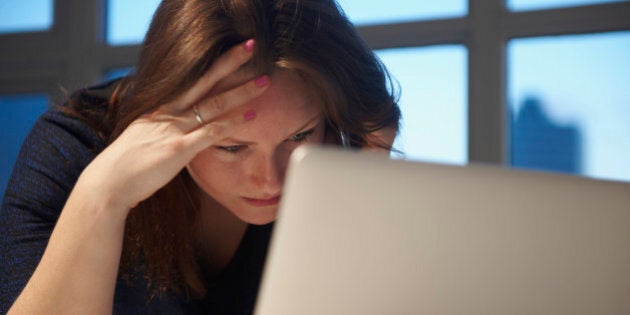 Last week, Terri Butler and I introduced a Private Member's Bill to criminalise 'revenge porn' -- the sharing of private sexual images and recordings without the subject's consent.
Almost everyone can see how wrong and damaging this behaviour is. Thousands of people have signed our petition supporting the Bill and the move to criminalise revenge porn has been widely welcomed by family violence service providers and women's legal groups.
However, revenge porn is just one example of the way that some men are using technology to exercise power over women in our society -- particularly prominent women. It's an increasingly important front in the battle for gender equality.
Over the past few years, we've seen a slew of increasingly high profile misogynistic and abusive communities targeting women online. It is now increasingly routine for women who speak out on issues of gender to be abused and intimidated with threats of sexual violence and rape via the internet.
At its worst, this abuse can be accompanied by the new obnoxious practice of 'doxing' in which the home address and details of women are published online in a way that is designed to threaten and intimidate these individuals. When women step into the public eye, in politics, gaming or the arts, they are subjected to vicious online abuse and harassment.
The Gamer Gate controversy shone a spotlight on the abuse and intimidation of women in the technology sector. This byzantine controversy began when a former boyfriend of successful game developer Zoe Quinn published an extensive blog post revealing intimate details of their relationship, including the allegation that she had a relationship with a gaming journalist. Her critics claimed that she used this relationship to induce a favourable review of her work.
In the wake of this post, Quinn and her family have been subjected to a vicious and ongoing campaign of misogynist harassment and intimidation including her repeated doxing, hacks of her Tumblr, Dropbox, and Skype accounts, and a slew of rape and death threats.
Other women in the technology sector who spoke out in Quinn's defence, like Anita Sarkeesian, quickly became subject to similar campaigns of ongoing harassment. And we wonder why there are so few women working in the technology sector.
We've seen similar online abuse and harassment of women in the arts. Lauren Mayberry, the lead singer of the band, Chvrches (soon to be returning to the Laneway Festival in Footscray in my electorate in Melbourne's West) has spoken out about the impact of the constant influx of sexually explicit and intimidating messages that she receives through the band's social media presence.
Her reward for calling out about this behaviour was a further slew of sexually violent threats, victim-blaming and advice that she should just "learn to deal with" the abuse. Needless to say, female artists should be able to use social media to communicate directly with their fans without having to read through hundreds of sexually explicit and intimidating messages.
Women in politics are another high profile target. Recently, a female Councillor in my electorate, Sarah Carter, spoke publically about the constant abusive and threatening text messages that she receives as a result of publishing her mobile phone number on the council's website.
Women in politics like Sarah work incredibly hard to be accessible to their community and shouldn't have to put up with abuse and intimidation as the price of being in politics. If we want to see more women in public life, and encourage more women to pursue positions of power, we need to stamp this out.
Too often women are being told that it's their behaviour that needs to change in the face of this online abuse, and not that of the cowardly perpetrators. It's not uncommon for a woman who makes a complaint about online abuse and intimidation to be told by the police to stay offline or to shut down their social media accounts. This is just 21st century victim blaming and is no different to telling a woman that it's her fault she was raped because of how she dressed or how she behaved. It places the responsibility on the victims instead of where it belongs -- on the men that are perpetrating this abuse.
The police need to start taking online threats seriously. It is important that the public see that the men who engage in these kinds of behaviours being charged with the (existing) criminal offences that they are committing.
We need to call out this abusive behaviour for what it really is -- a group of men trying to exercise power over prominent women. Trying to silence them and chase them away from the public eye. Leaders should be encouraging everyone, including bystanders, to take action to end abuse and harassment of women online.
We need to start seeing businesses and community members committing to tackling misogynistic attitudes and behaviours online more generally. People that see the vile threats and abuse thrown at women online and do nothing are perpetuating the problem.
We all have a responsibility to stand up for gender equality, whether it's in person or online. Sometimes you will be drowned out by trolls, but every now and then the victim of abuse will see your comments and know that she's not alone.
Unless we rally around women who are brave enough to take a stand on these issues, the lesson to other women will be to shut up and keep your head down. We'll all be the losers if talented women are chased off the public stage.
In this context, dealing with the most extreme form of this abuse -- revenge porn -- is relatively straight forward. If Malcolm Turnbull allowed our Private Member's Bill to be debated, we could criminalise revenge porn in a matter of days.
Dealing with the broader problem of the online abuse and intimidation of women is a much bigger task. Like most battles for gender equality, it's going to take the entire community to tackle.