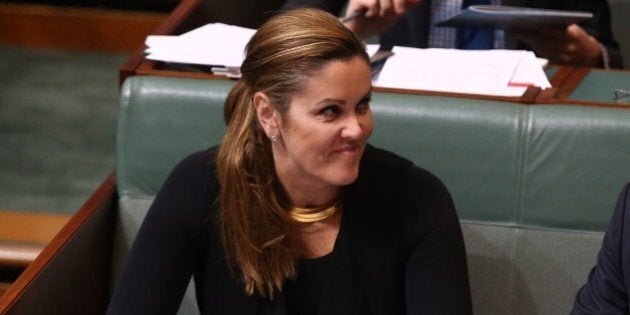 There was something rather calming about watching Peta Credlin speak at the AWW Women of the Future event last night.
This formerly-mysterious political backroom player has a reassuring voice -- which didn't waver as she described what a tough couple of weeks she's had, and how her friends outside politics had propped her up emotionally.
Credlin seemed like a woman who is OK. Certainly OK enough to turn up and take part in a panel discussion in a room full of journalists -- quite a break from tradition for someone who recently demanded a photographer delete photos of her from their camera.
And she made a good point about how most of the very robust criticism of her management style in the office of Tony Abbott came from unnamed sources not big enough to say it out loud.
"I refused to be defined by insider gossip from unnamed sources when no one has the guts to put their name to it," she said.
In a previous defence of his chief-of-staff, Abbott wondered if the attacks on her would have been as vicious if she were a "Peter", instead of a "Peta".
And last night Credlin expanded on this theory, saying: "If I was a guy, I wouldn't be bossy, I'd be strong. If I was a guy I wouldn't be a micromanager, I'd be across my brief, or across the detail."
Case-in-point: Kevin Rudd.
One of the widely acknowledged issues with Rudd's administration was his sometimes-obsessive micromanagement of issues, leaving Ministers impotent, decisions unmade and major policies designed on airplane napkins in the middle of the night.
"Bossy" is a much milder version of the words used to describe Rudd's temperament.
It is almost universally accepted that Rudd's style of management was totally unproductive, and often much worse than that.
This week Malcolm Turnbull has publicly acknowledged his own need to grow in this department, saying he's learned to be much more respectful of others' opinions since his last rather rocky leadership, and plans to run a proper Cabinet government.
Can we all just agree that intimidation of grown professionals with serious jobs to do (or intimidation of anyone) is not the way to get things done -- even in the rough and tumble of politics.
Credlin's response to accusations she was intimidating was totally unapologetic:
"And if you're a cabinet minister or a journalist and you're intimidated by the chief-of-staff of the prime minister then maybe you don't deserve your job."
Sorry if I'm not cheering from the sisterhood benches at that statement.
Credlin is passionate about getting more women into politics, and realistic about the challenges those women face.
But a micro-manager is a micro-manager and intimidating is intimidating.