ASSOCIATED PRESS
There was a particularly disconcerting moment during the 2010 election campaign when someone in the ALP decided it was a good idea for Julia Gillard and Kevin Rudd to be seen together and made them sit in front of a map of Queensland and pretend to discuss flood recovery for the sake of the cameras.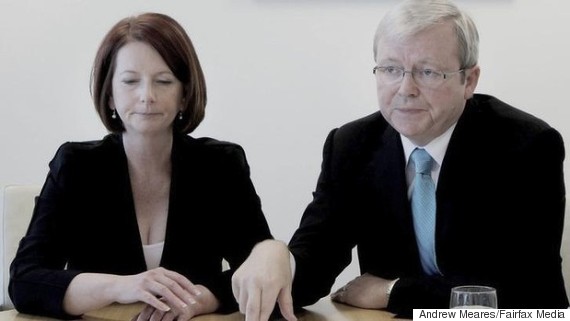 It was a bad idea. The loathing seeped from every pore of both participants. We all know how it turned out.
Coalition strategists can't say they weren't warned. Here's hoping we won't see Malcolm Turnbull and Tony Abbott barbecuing snags together, or helping each other reverse a semi-trailer, or whatever campaign cliche we're in for over the next three months. There's little risk of a double-budgy smuggler parade.
But that doesn't mean Abbott won't be a huge shadow looming over Turnbull's pitch.
Which is why there is so much riding on the May 3 Budget.
Turnbull's pitch needs to be a lot stronger than it is right now if he's going to shake off that shadow.
As Abbott couldn't resist pointing out on PM Live last night, the "Coalition's" record is almost exclusively the "Abbott Government's" record.
Big-ticket issues such as marriage equality and climate change haven't budged. Much-needed tax reform has stalled.
Any examination of the GST and negative gearing is off the agenda.
The big trade agreements are done. The dreaded boats have all but stopped.
And when, on '7.30', Leigh Sales asked Turnbull to what achievements he could lay claim, his answer was one for the political tragics.
"Firstly, we dealt with Senate voting reform. That was not on the agenda and it's done. It's been voted in and done. Secondly, we have a cities policy. We are not limiting our support in cities and generally to roads, we're supporting mass transit and public transport. Media ownership reform, kicked into the long grass, never to be seen again, apparently; taken out. It is now the Government's policy and we'll be proceeding to bring our media ownership laws into the 21st Century. And right across the agenda of innovation, that's - that is an innovation, if you like, of my prime ministership, but we are supporting investment in new start-up companies. We're ensuring that our universities and our best minds and our big research institutions work closely with and collaborate with business."
Senate reform? Hardly a BBQ stopper.
Media ownership? Zzzzzzzzzzzzzzz.
Innovation? A broad concept that doesn't lend itself to the hustings.
The potential trigger for the double dissolution -- the restoration of the Building and Construction Commission -- does give Turnbull a nice way to differentiate himself from Bill Shorten. But as planks go, it's not enough to sustain him through the next 16 weeks.
He can't campaign on the social issues he's passionate about because he hocked them to the right to win the leadership.
What's left? Well there's always "I'm not Tony Abbott". But neither is Bill Shorten.
Turnbull has said he wants to show leadership on our cities -- after all, most voters live in one. But a vision for the future of our urban areas has to be about more than a couple of tech hubs and some selfies on the bus.
Expectations for the May 3 Budget will be extremely high.