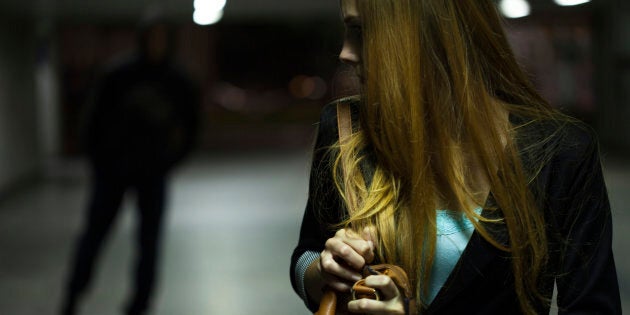 I met Carly at my parent's house, in suburban Melbourne. She's 16 years old, and goes to my old school. I interviewed her about her experiences of being a woman in public places. Outspoken and confident yet fragile, Carly talks about being assaulted on a Richmond street by an older man. She mentions her outfit.
"It was modest" she said, indicating that she thinks this holds some kind of importance.
Her voice cracks. Men think she's a lot older than she is, and this makes her feel uncomfortable. She no longer likes going into the city, and when she does, she contorts her face to look mean and hostile so that no one talks to her or looks her way.
"It's not my fault I have a big bust."
Rewind 10 years and she is me, sitting in that very room, dealing with my first boyfriend. He's confronting me about the previous weekend's party. What was I wearing? Who did I speak to? Who looked at me? Did I dance? Who with? He goes into a jealous rage, and I spend hours convincing him that he has nothing to worry about.
Neither of these stories are remarkable, but they should be. Sadly, this is the kind of everyday sexism women have come to expect, and learnt to live with. Women deal with harassment, unwanted attention and assault in public, but they shouldn't have to. In private, toxic relationships are commonplace, with one in four Australian women experiencing violence from a partner or ex-partner. This is unacceptable.
I have had countless conversations with young women about experiences of sexism and double standards occurring on the streets, at school, in homes and at parties. Shockingly, our research found that women in Nicaragua feel safer in public places than those in Australia. One in three Australian teenage girls report feeling unsafe in public.
In Melbourne, this fear has led to women curbing their behaviour. Women often move about in groups at night or not at all, deciding to stay home instead. One woman I spoke to said she's not just scared something will happen to her, she's scared something will happen and she'll be blamed for it, for being in the wrong place at the wrong time, or for wearing the "wrong" attire.
Being visibly Muslim, one woman checks the news, knowing it can affect the way she's treated that day. Other women I've interviewed have experienced intimidation and racism for being not only a woman, but a woman of colour. Another woman has been the recipient of frequent abuse for expressing physical affection towards her girlfriend in public.
Melbourne was voted the most liveable city in the world again this year, but I wonder, liveable for who? Have women just accepted constantly looking over our shoulders, holding keys in our fists, taking an Uber home to avoid the hassle of being in public alone as the norm?
Yet, even Uber isn't always safe. A few weeks ago I got into an Uber after spending the day campaigning to make the city safer for women. The driver spent the trip making sexual innuendo, asking "how hot I like it?", asking who was waiting for me at home, and if I had a boyfriend. After a day of feeling powerful and respected, this man made me to feel unsafe, powerless and objectified. It doesn't matter who you are or what you do, the power men hold over women in situations such as this is regularly exploited.
Not being able to access public space and transport with ease and comfort is a disadvantage not visible to those groups who have never experienced this sort of marginalisation. We need to raise the public consciousness about the reality of being a young woman in the city, the way it feels to be visible and vulnerable on a daily basis.
It's time to demand better. From our city, from Melbourne, from bystanders, from educators, and from transport providers. Who's going to take responsibility for how girls and women feel in the city day in and day out?
Free To Be is a map designed to collect information directly from the city's residents about where they feel safe and unsafe.