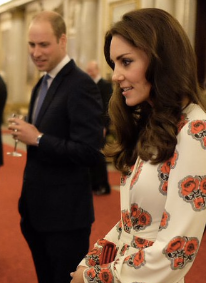 Yui Mok/PA Wire
Every time we think we've got the Duchess of Cambridge's signature style down to a science, she goes and pulls a fast one on us.
Surprises include sheer gowns, sun dresses in cold temperatures and now, this: a very large, very bold floral print on white from Alexander McQueen.
While she's a longtime fan of Alexander McQueen and has an undeniable affinity for prints, we'd sooner picture the former Kate Middleton wearing solid repeat dresses or a pretty statement coat than something that looks so downright daring.
Kate wore the dress to meet Olympians and Paralympians at Buckingham Palace in London Tuesday night alongside Prince William, Prince Harry and Queen Elizabeth II. The queen also diverged from the norm in what appears to be a shiny (!) teal outfit. Will wonders never cease!
Kate's printed dress is available in a sleeveless, open-back version at Saks Fifth Avenue for $3,075. And it, by the way, would have been even cooler to see on. Just saying.
Also on HuffPost
Kate Middleton's Most Stylish Looks
Suggest a correction