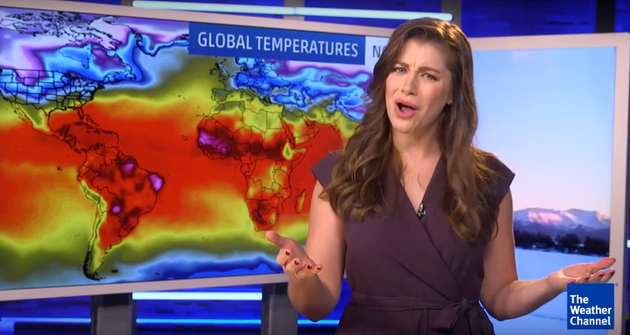 The Weather Channel/YouTube
A week after Breitbart News published a wildly inaccurate article chalking climate change up as a hoax, The Weather Channel decided to teach the hyper-conservative news outlet a thing or two about scientific fact.
In a post to its website, TWC called the Breitbart piece, which relied heavily on a story published in the Daily Mail, "a prime example of cherry picking, or pulling a single item out of context to build a misleading case."
TWC's scathing response features a video post in which atmospheric scientist Kait Parker breaks down each of Breitbart's claims, including that "global land temperatures have plummeted."
"Here's the thing: Science doesn't care about your opinion," Parker says in the video. "Cherry picking and changing the facts will not change the future, not the fact ― note: fact, not opinion ― that the earth is warming."
Here's Parker's full takedown:
Along with its video, TWC's published a lengthy retort to each of the article's three main claims, as well as a final message for its "friends" at Breitbart.
"The next time you write a climate change article and need fact checking help, please call. We're here for you," it wrote. "I'm sure we both agree this topic is too important to get wrong."
If their response on Twitter is any indication, the folks over at Breitbart aren't planning to run a correction.
Also on HuffPost
Here's What The 10 Leading GOP Candidates Think Of Climate Change
Suggest a correction