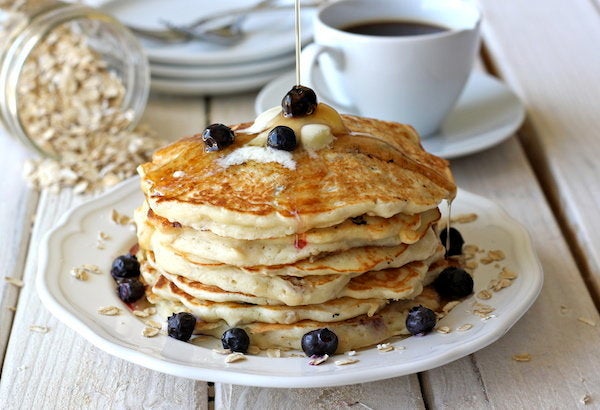 How Sweet It Is, Half Baked Harvest, Damn Delicious
There are a few foods that make us swoon, but pancakes are definitely one of them. Despite their simplicity -- they're made with nothing more than common items we have stored in our pantry -- they bring us happiness like only the most perfect of foods can (such as chocolatey brownies and grilled cheese sandwiches). One bite of a stack of pancakes and we're quickly reminded that we really can find heaven on earth.
Pancakes have another trick up their sleeve too. They let us do something that most other comfort foods don't: they give us an excuse to eat dessert for breakfast. This is awesome. In honor of this breakfast cake, we scoured the web for the best, most tempting recipes. And we found them. Without further ado ...
Half Baked Harvest

2

Classic Buttermilk Pancakes

Damn Delicious

Honey and Jam

4

Lemon Cornmeal Pancakes

Two Peas and their Pod

5

Chocolate Chip Oatmeal Cookie Pancakes (Vegan and Gluten Free)

Minimalist Baker

6

Blueberry Oatmeal Yogurt Pancakes

Damn Delicious

7

Roasted Acorn Squash Pancakes

Bev Cooks

8

Cappuccino Pancakes With Mocha Syrup

Pastry Affair

Completely Delicious

Bel'allimento

11

Jalapeno Cheddar Cornbread Pancakes With Roasted Blueberry Honey Syrup

Half Baked Harvest

12

Peanut Butter Cup Pancakes (Vegan And Gluten Free)

Minimalist Baker

The View From The Great Island

14

Buttermilk Sweet Potato Pancakes With Coconut Whipped Cream

How Sweet It Is

15

Cinnamon Roll Pancakes (Vegan)

Minimalist Baker

16

Chocolate Lovers Pumpkin Fudge Brownie Pancakes

Half Baked Harvest

Foodie Crush

18

Whole Wheat Zucchini Pancakes

Two Peas and their Pod

19

Ombre Ricotta Pancakes

A Beautiful Mess

20

Whole Wheat-Flax Buttermilk Pancakes

Portuguese Girl Cooks

21

Chocolate Chip Lemon Baklava Pancakes With Salted Vanilla Honey Syrup

Half Baked Harvest

Pastry Affair

23

Orange Ricotta Chocolate Chip Pancakes

Two Peas and their Pod

24

Rum And Cranberry Pancakes With Butter Rum Syrup

Half Baked Harvest

A Beautiful Mess

26

Coconut Pancakes With Grilled Bananas

Citrus and Candy

27

Whole Wheat Greek Yogurt Pancakes

How Sweet It Is

A Spicy Perspective

Averie Cooks

30

Bourbon-Maple Syrup On Egg Nog Pancakes

Jerry James Stone

Foodie Crush

32

Rice Krispie Treat Pancakes With Browned Butter Syrup

Half Baked Harvest

How Sweet It Is

34

Apple Cider Pancakes With Cinnamon Syrup

Buns In My Oven

35

Goat Cheese And Mascarpone Vanilla Bean Pancakes With Strawberry Rhubarb Syrup

Adventures in Cooking
Suggest a correction